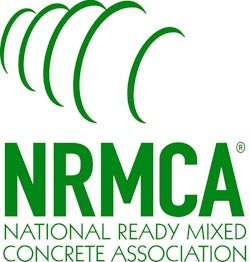 SILVER SPRING, MD (November 9, 2011) -- According to data included in the recently released Industry Data Survey by the National Ready Mixed Concrete Association, ready mixed concrete producers have been hit hard by the recession and slow economic recovery. The average pre-tax profit for ready mixed concrete producers fell to a record -$7.27 per cubic yard in 2010. When the recession began in 2008, ready mixed concrete producers reported an average pre-tax profit of 20 cents. This figure fell to -$3.07 in 2009 as the effects of the recession took hold of the economy.
Ready mixed concrete production in 2010 fell to just 258 million cubic yards, or 0.8 cubic yards per capita from a high of 1.51 in 2006. At the height of the housing boom in 2005, ready mixed concrete production reached 458 million cubic yards but has been declining ever since.
"It's clear from the data that the ready mixed concrete industry is suffering," said NRMCA President Robert A. Garbini. "Production levels haven't been this low since 1994. The recession wiped out more than a decade of growth in the industry. The average loss per cubic yard reported shows an industry which cannot sustain itself."
More than most, the ready mixed concrete industry has been hit hard by the combination of the housing market collapse, tightening credit and resulting constricted commercial construction, and a lack of serious infrastructure investment. In response to the unprecedented drop in demand, Garbini noted that many ready mixed concrete producers are seeking to "balance their portfolios" by looking at untapped markets such as parking lots and streets and local road in order to augment production. "There's great potential growth in these market segments since ready mixed concrete is under-represented in these sectors," he said.
NRMCA's Industry Data Survey is an annual survey of ready mixed concrete producer members and is available to producers that participate in the survey. The survey collects information on ready mixed concrete production and the costs associated with the sales and support of concrete. The survey reports on U.S. averages as well as regional statistics.
NRMCA, based in Silver Spring, MD, represents the producers of ready mixed concrete and the companies that provide materials, equipment and support to the industry. It conducts education, training, promotion, research, engineering, safety, environmental, technological, lobbying and regulatory programs.
Companies in this article