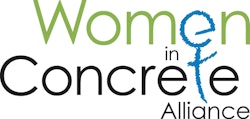 The Women in Concrete Alliance (WICA) -- a networking organization for women in the concrete industry that debuted earlier this year -– has announced the call for entries for the second annual Woman of Distinction award.
Rosa Olivia Becerra, owner/president of Cortamex, a diamond blade supplier in Tijuana, Mexico, was voted the winner of the first award for her dedication to her customers. Becerra began her construction career as a bookkeeper for her brother's concrete cutting company and eventually took over when he left.
To submit a nomination for the Woman of Distinction Award, visit the News/Events page at www.womeninconcrete.org. The deadline for all nominations is Jan. 6, 2011. After the nominations are received, members of the industry will have the opportunity to vote on their choice at the Women in Concrete luncheon held Wednesday, Jan. 25 from Noon-2 p.m. in conjunction with the World of Concrete.  To register for the luncheon, visit www.worldofconcrete.com.  The winner will be announced in February 2012. 
Companies in this article