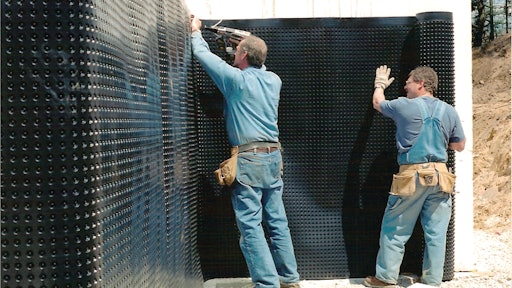 A free online training course from CertainTeed Corporation on basement design and moisture management best practices has been approved by the U.S. Green Building Council (USGBC) Leadership in Energy and Environmental Design (LEED) professional credentialing program. "A Systems Approach to Effective Basement Design" examines moisture management and insulation in the context of a sustainable building foundation and includes material that informs LEED professionals about specific LEED system requirements.
"Establishing integrated systems to insulate, and manage liquid and water vapor in a building's foundation are the most important factors to ensuring a healthy and comfortable indoor environment over the life of the structure," said Mark DaSilva, senior marketing manager for CertainTeed Foundations. "Certification by the USGBC builds upon CertainTeed's thought leadership in sustainable building and strengthens the entire professional knowledge base by providing valuable continuing education opportunities."
Specifically, the course addresses integrated design and whole-system solutions for moisture management, the role of climate, effect of soil types and specific moisture flow mechanisms. It also covers effective moisture management and insulation practices of wall structures.
The USGBC is the primary source for LEED standards, an international third-party certification system designed to reduce buildings' carbon footprints. CertainTeed's basement design course contributes one credit hour toward the LEED professional credential, which requires 15 credits every two years.
CertainTeed offers a variety of foundations products to meet the needs of green building projects. EnergyEdge, the most recent addition to CertainTeed's foundations products, is an insulating concrete slab edge form that is designed to prevent energy loss along the uninsulated concrete slab edge. Other products include Form-A-Drain, a patented three-in-one concrete footing form system, foundation drainage system and sub-slab perimeter radon collection system; ThermaEZE, an innovative technology that provides a cost-effective means for building thermally efficient above-and below-grade poured concrete walls; and Platon, a unique air-gap polyethylene waterproofing membrane that protects against wall and under slab moisture.
The course is also available through in-person seminars and webinars upon request. To schedule, visit www.certainteed.com/continuinged.
Companies in this article