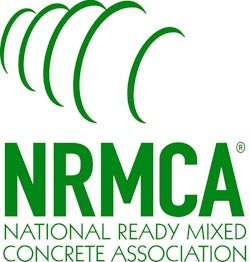 The Kentucky Ready-Mixed Concrete Association (KRMCA) has been named as the 2011 NRMCA State Association of the Year, an award which honors state and area associations for their contributions to the industry in the areas of research, education, advocacy and promotion.
The winner was selected from a field of outstanding nominations, according to NRMCA Construction Industry Alliances Committee Chairman Steve Robinson of Spokane Rock Products Inc. in Spokane, WA. "I can assure you that selecting one winner is not an easy duty," Robinson said. "The amount of work, programs and materials being produced and implemented at the state level is pretty fantastic!"
Some of the highlights from KRMCA's nomination:
Development of a "Challenge Notebook" for producers to distribute to decision-makers of all capacities. These notebooks have regular updates which the producers then deliver to those same people to add to their books, effectively keeping the concrete message fresh and at the front of their minds.
Creation of an "MIT Message" group of more than 80 KRMCA members whose purpose is to put the MIT Concrete Sustainability Hub's documents into the hands of decision-makers and elected officials (state, local and federal).
KRMCA owns pervious concrete placement equipment, which it uses for NRMCA Pervious Concrete Certification classes and association demonstrations. It's also made available for rental by KRMCA members.
KRMCA has been very influential in local pervious concrete specifications and requirements. Through education and promotion, it has developed very strong relationships with the public officials who make the decisions on stormwater management; been actively involved in the Kentucky Stormwater Association and presented at some of its functions.
Staff member Brett Ruffing serves on multiple committees within the Kentucky Chapter of the USGBC, including Education, Membership, Commercial/Infrastructure Task Group and as Advocacy Day Chair.
KRMCA hosted an educational fundraiser for incumbent governor Steve Beshear who won the November election. Stations were set up around the office highlighting ICF's, concrete intersections, local streets and roads, parking lots, pervious concrete and the sustainable attributes of concrete. Before leaving, the governor stated that concrete should be considered when making building decisions in the Commonwealth.
KRMCA utilizes many of the resources available through NRMCA, including publications, webinars and conferences, as well as regularly inviting NRMCA to present directly to its membership and calling on various members of NRMCA's personnel when their expertise can benefit KRMCA and its members.
Finally, KRMCA is on the leading edge of the use of a wide variety of social media tools to further spread the message and benefits of concrete.
Clearly, the Kentucky Ready-Mixed Concrete Association has been a pivotal resource in the success of the concrete industry in Kentucky, and the staff and leadership's continued optimism about concrete's opportunities in the face of current economic hardship is to be congratulated.
Companies in this article