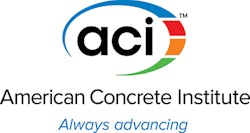 The concrete industry's Strategic Development Council, a Council of the ACI Foundation, is currently seeking presentations for future sessions.
"Presenting a new technology to the Strategic Development Council allows the creators to showcase their technologies to some of the most influential leaders in the concrete industry," said Mike Schneider, Chair of SDC. "With the help of SDC, technologies are readied to be pushed out into the marketplace more efficiently and effectively, resulting in a higher level of exposure for the technology and its creator."
"Technology Showcases" have become a hallmark of SDC's annual spring and fall sessions, allowing companies and/or individuals the opportunity to showcase their new, interesting, innovative technologies that have the potential to improve and advance the concrete industry. Each new technology that is introduced at SDC gains exposure and possible assistance to address barriers and obstacles that are preventing or slowing acceptance of the technology within the concrete industry.
What options are pursued within SDC is primarily driven by the technology owner acting as champion and subject to the interest in the topic by the overall SDC membership. As technologies work through the SDC progression, they attain various status levels within the organization: Early Technologies, Emerging Technologies, Industry Critical Technologies, Focused Technologies, and Archived Technologies.
SDC is currently seeking Technology Showcase presentations for its upcoming fall session, to be held in Quebec City, Quebec, Canada, Sept. 6-7, 2012.  For more information and to submit your technology for consideration, please visit www.concreteSDC.org and click "Introduce your Technology."
Companies in this article