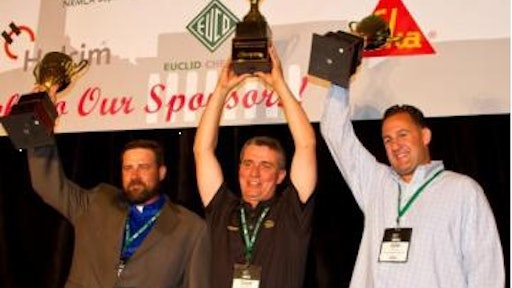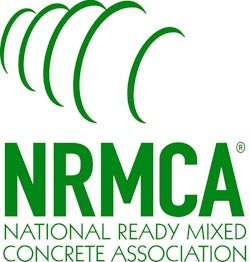 Concrete mixer truck driver Trent Slavens from Frankfort, IN, became the first-ever two-time NRMCA Mixer Truck Driver Champion when he earned top honors at this year's championship held earlier this month at National Harbor, MD, in conjunction with NRMCA's ConcreteWorks. Slavens of Irving Materials Inc. (IMI), Frankfort, IN, also earned the champion's check of $2,500. He has been driving a ready mixed concrete truck for IMI for 10 years. He is an NRMCA Certified Concrete Delivery Professional and currently drives a Terex Advance front discharge mixer truck. Slavens won his first national title in 2010 and is a past winner of the Indiana Ready Mixed Concrete Association Championship. He also finished third twice in NRMCA's National Mixer Driver Championship competition.
Now in its seventh year, this year's contest "was an extremely close competition," according to NRMCA Senior Vice President of Operations and Compliance Gary Mullings. Twenty-eight drivers, which included state rodeo champions as well as NRMCA member company champions from around the nation, competed to be the "Best of the Best". The champion was selected based on a cumulative score derived from competitions that included a driving challenge course, visual vehicle inspection, reaction-time-test, slump estimation and two-hour written examination. Awards were presented for the top three finishers, with all other drivers tied for fourth.
Second place and a check for $1,000 went to Chris Harrison of Morrilton, AR. Harrison has been driving a mixer truck for more than 10 years and has been working for Mobley Construction Company Inc. for three years. He currently drives a Kenworth four-axle truck with a McNeilus rear discharge mixer. He is an NRMCA Certified Concrete Delivery Professional and was also the runner up in the 2012 Arkansas Ready Mixed Concrete Association Rodeo.
Third place and a check for $500 went to John Tesi of Ferrara Bros. Building Materials Corp., in New York City. He has been with Ferrara Bros. for 20 years and is currently driving a Kenworth four-axle truck with McNeilus rear discharge mixer. Tesi is an NRMCA Certified Delivery Professional and is the reigning Ferrara Bros. Corporate Rodeo Champion.
Click here to view a video of this year's event.
Also honored at the awards dinner were drivers who distinguished themselves at various stages of the competition. Those drivers who successfully made a basket by artfully operating their extended chutes were: Todd Brown Manatt's, Inc., Newton, IA; Carl Carrington, IMI; Billy Hickman, Chaney Enterprises, Waldorf, MD; Ken Johnson, MMC Materials, Inc., Saltillo, MS; David McLean, Metro Ready Mix, Nashville, TN; Elvis Reyes, Ferrara Bros. Building Materials; Trent Slavens, IMI; Todd Snider, Chandler Concrete Piedmont, Inc., Randleman, NC; John Tesi, Ferrara Bros.; Gene Thomas, Vulcan Materials, Washington, DC, and Bill Youngers, United Materials, LLC, North Tonawanda, NY.
The top scorer of the "Closest to the Egg" station was Steven Waclawski of Chaney Enterprises. Tied for the top score by estimating the slump of concrete to within ¼ inch were Chris Daniels, IMI, Lebanon, TN; Brian Kelly, Bard Materials, Strawberry Point, IA; Jason Nelson, MMC Materials, Greenville, MS; Jay Seevers, Shelly Company, Marietta, OH, and Gene Thomas, Vulcan Materials.
The bowling station was another new challenge to the competition this year. Scoring a strike were Chris Harrison of Mobley Construction and Ivan Martinez, CalPortland Co., Long Beach, CA. Drivers were also tested to determine who had the fastest reaction time through computerized testing. The title of "Fastest in the Nation" went to Elvis Reyes, Ferrara Bros. Building Materials. Both the highest score on the written exam and the highest score for the inspection station went to Verlin Wagler, IMI, Evansville, IN. Finally, taking the top spot on the Vehicle Challenge Course by outscoring all others was John Tesi of Ferrara Bros.
Companies in this article