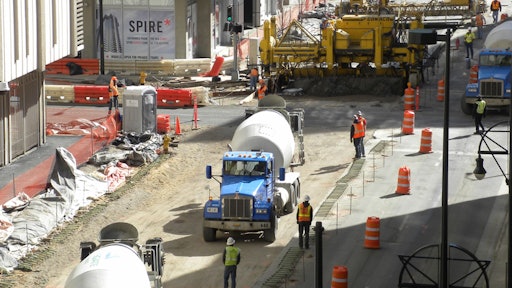 Taking home a gold in the Urban Arterials & Collectors category for the 2012 Excellence in Concrete Pavements Awards was Concrete Works of Colorado. The American Concrete Pavement Association (ACPA) Annual Awards for Excellence in Concrete Pavement are designed to honor quality concrete pavements constructed in the United States and Canada each year.
Project: 14th Street Sidewalk/Streetscape Reconstruction Project, Denver, Colo.
Contractor: Concrete Works of Colorado
Owner: City of Denver
Engineer: PB World
This project in downtown Denver had no room for error as traffic needed to always flow as smoothly as possible, and the traveling public needed access to this bustling area. The corridor includes the Denver Performing Arts Center, the Colorado Convention Center, four recently-constructed hotels, condominium towers, and hundreds of businesses.
The 14th Street project transformed 12 blocks between Colfax Avenue and Market Street into a beautiful, pedestrian-oriented "living street." Known as the "Ambassador Street" because of the diversity of visitor-oriented uses along this corridor, the project held great hope because of the sheer amount of activity along this street, but it also presented many challenges.
Necessary impacts to the car and pedestrian traffic along the corridor, numerous unexpected underground utility relocations and the constant need for scheduling extensive work around the needs of these high-profile businesses were just some of the challenges that were dealt with on a daily basis.
Improvements included the reconstruction of 12 intersections in full-depth concrete with colored concrete crosswalks; the complete reconstruction of concrete pavements along seven blocks; and widening the northern sidewalk to 19 feet and reconstructing the southern sidewalk to 16 feet. It also called for adding bulb-outs to the street's south side to minimize pedestrian crossing distance; and reconstruction of a concrete sidewalk (full building face to building face) with decorative sandblasting, granite seating areas, elongated planters as well as planter pots with annual plantings, shrubs, approximately 180 trees, street lighting, accent lighting, way-finding signage, and colored/textured pavers. The project also included a bike lane to connect the Cherry Creek trail and Civic Center Park.
A "Better Denver Bond Program" project, administered by the city and county, 14th Street was also designed to meet goals for using recycled materials, regional materials, capturing and treating runoff, and optimizing energy efficiency. The project not only met each of these goals but also met the criteria for Greenroads, a rigorous sustainability metric system for roadways.
Despite many unforeseen utility issues, and the daunting challenges of working along such a busy downtown corridor, the project was completed on time and on budget.
Companies in this article