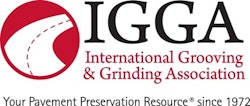 The International Grooving & Grinding Association (IGGA) announced the election of new board members and a slate of officers for the 2013 year.
The officers for 2013 are as follows:
President: Tom Bonness, Jr. of C.P.R., Inc. (Elkhorn, Wis.)
Vice President: Jake Steinberg of Construction Materials (Minneapolis, Minn.)
Secretary: Terry Kraemer of Diamond Surface, Inc. (Rogers, Minn.)
Treasurer: Scott L. Eilken of Quality Saw & Seal (Bridgeview, Ill.)
Past President: Alex Ugalde of Hilti North America (Tulsa, Okla.)
Director: Jerry Voigt of American Concrete Pavement Association (Rosemont, Ill.)
International Director: Charley Grady of Crafco (Chandler, Ariz.)
With more than 25 years of experience in the concrete paving industry, Bonness has focused on concrete pavement repair, full and partial depth repair and dowel bar retrofit techniques. Working up through the beginning as a skilled laborer, Bonness is the President and Owner of C.P.R., Inc. – a concrete contracting company based in Elkhorn, Wisc. In addition, he is the Managing Member and Owner of C.P.R. Leasing, LLC and the President and Owner of T3 Concrete Testing, Inc.
Companies in this article