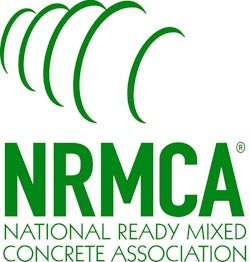 The National Ready Mixed Concrete Association (NRMCA) is seeking abstracts for its 2014 International Concrete Sustainability Conference scheduled for May 12-15 just outside Boston at the Hyatt Regency Cambridge. The ninth annual conference will provide learning and networking opportunities on the latest advances, technical knowledge, continuing research, tools and solutions for sustainable concrete manufacturing and construction.
Researchers, academics, students, engineers, architects, contractors, public works officials, material suppliers and concrete industry professionals are invited to present and attend the conference. Suggested topics include the latest developments related to design, specifying, manufacturing, testing, construction, maintenance and research of concrete as it relates to sustainability:
LIFE CYCLE ASSESSMENT – Assessing carbon footprint, embodied energy and other environmental impacts for buildings, infrastructure, and cement and concrete manufacturing.
LOW IMPACT DEVELOPMENT – Pervious pavements and erosion control structures. Urban heat island reduction, light colored pavements, green roofs and cool communities.
GREEN CONCRETE – Recycled and alternative materials, including aggregates, water, cementitious materials and fuels. Beneficial use of byproducts for cement and concrete production.
NEW CONCRETE TECHNOLOGY – Durability, extended service life models and validation, performance based specifications to foster sustainability. Innovative concrete production methods.
SUSTAINABILITY INITIATIVES – Green building codes and standards adopted by building owners, designers, contractors and product manufacturers. Economic incentives and legislation.
FUNCTIONAL RESILIENCE – High performance concrete applications in buildings and infrastructure, fortified building codes and community initiatives focusing on disaster resistance and adaptive reuse.
The 2014 International Concrete Sustainability Conference is being held in conjunction with the MIT Concrete Sustainability Hub Showcase scheduled for May 15, 2014. Registrants for the 2014 International Concrete Sustainability Conference will have the option of attending both events.
"NRMCA is proud to bring the Sustainability Conference to Boston for a second time and to co-locate it with the MIT Concrete Sustainability Hub Showcase," said NRMCA President Robert Garbini. "This will be the ninth year we've hosted the conference in the United States as a way to bring researchers and practitioners together to explore advances in concrete sustainability. The concrete industry is demonstrating significant progress toward its goals of reducing the impact of the built environment through process and product improvements, and research presented at the conference is helping us get there."
Abstracts can be submitted online by November 30, 2013.
Companies in this article