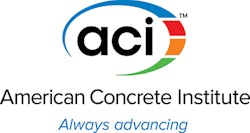 The American Concrete Institute (ACI) presented its Distinguished Achievement Award to Hensel Phelps, one of the largest construction companies in the U.S. The award was presented at the ACI Fall 2013 Convention in Phoenix, Arizona, October 20.
The award is given to ACI nonmembers who have made notable contributions to the advancement of the concrete industry. Hensel Phelps were honored for providing leadership in the advancement of the sustainable use of concrete through innovation and efficient use of local resources.
Hensel Phelps, one of the United States' largest construction companies, is a financially strong corporation with a net worth of $388 million and a 5A2 D&B rating. Hensel Phelps plans, builds, and manages commercial, institutional, industrial, defense, and other specialty projects through competitive and negotiated means. As a general contractor, construction manager, and design-builder, Hensel Phelps offers one of the strongest records for on-time delivery and cost-effective performance in the industry. Established in 1937, the corporation is employee-owned with primary shareholders in management positions within each of the districts.
The company's portfolio of projects extends from the West Coast to the East Coast and beyond. Notable projects in Arizona include the PHX Sky Train at Sky Harbor International Airport; City North Phoenix Phase I; several projects for the University of Arizona, Tucson, AZ, including the Medical Research Building, Chemical Sciences Building, and Law Commons; the Mariposa Land Port of Entry—Phases 2 to 4; the Arizona Cancer Center; and the AETC-1 Military Family Housing project at Luke Air Force Base.
Since 1989, Hensel Phelps has received numerous ACI chapter awards. They received the 2004 Award for Excellence in Concrete for the FDA Laboratory at Irvine, CA; the 2006 Design and Engineering Excellence Award for the UCI Computer Science Unit 3—Bren Hall in Irvine, CA; the 2008 Innovative Use of Concrete Award for the Smart Corner Residential Tower & Office Building in San Diego, CA; the 2009 award in Recognition of Outstanding Achievement and Excellence in Concrete Construction for the UCI Engineering Unit 3 project in Irvine, CA; and the 2012 Excellence Award for Fast-Track Construction for the EchoStar Wyoming Data Center in Cheyenne.
Companies in this article