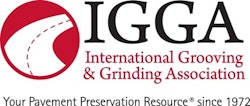 The International Grooving & Grinding Association (IGGA) – a non-profit organization dedicated to serving as the leading promotional and technical resource for acceptance of diamond grinding and grooving as well as pavement preservation and restoration – has announced the election of new board members and a slate of officers for the 2014 year.
President: Jake Steinberg of Construction Materials (St. Louis Park, Minn.)
Vice President: Terrence Kraemer of Diamond Surface (Rogers, Minn.)
Secretary: Chris Priest of Multiquip Equipment / Sanders Blades (Quinton, Va.)
Treasurer: Scott Eilken of Quality Saw & Seal (Bridgeview, Ill.)
Past President: Tom Bonness, Jr. of C.P.R., Inc. (Elkhorn, Wis.)
Director: Jerry Voigt of American Concrete Pavement Association (Rosemont, Ill.)         
International Director: Jason Seovic of Seovic Civil Engineering (Narellan, New South Wales, Australia)        
With more than 20 years of experience in the construction industry, Steinberg has focused his career on managing and estimating CPR projects throughout the country as well as supplying and servicing the concrete paving and repair industry in the upper Midwest. A member of the IGGA board of directors since 2012, Steinberg chaired the communications committee for two years and has also served a term on the board of directors for the Concrete Paving Association of Minnesota. He holds a bachelor's degree in finance from Moorhead State University.
"With the continued uncertainty in the infrastructure market, one of our association's primary goals is to expand our position as the leading resource for CPR and pavement preservation. We will continue to promote the work of our members by educating owners and key decision makers as to the benefits and cost effectiveness of a well-timed and properly implemented CPR program," said Steinberg. "Maintaining and growing our membership, ensuring quality work is being performed that meets and exceeds specifications, and expanding our reach into new markets will be a focus and critical to the continued success of our association."
Companies in this article