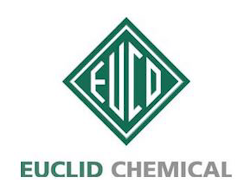 The Euclid Chemical Company, a provider of admixtures and concrete repair materials for the construction industry, earned two sustainability awards from the National Precast Concrete Association (NPCA). The awards recognize excellence in sustainable products, practices and operations.
Euclid Chemical's Tuf-Strand SF took first place in the associate member product category. Tuf-Strand SF is a macro-synthetic polypropylene fiber that replaces steel in concrete reinforcement. A study the company completed in partnership with the University of Akron found that the use of Tuf-Strand SF to reinforce concrete instead of steel reduced carbon dioxide equivalent emissions by 56 percent.
"The construction sector is a major emitter of carbon dioxide, and concrete is the most used building material worldwide. So, we're extremely proud of the fact that our Tuf-Strand SF product has such a considerable impact on reducing the carbon footprint. Plus, the fact that it doesn't corrode is another significant benefit it provides over steel," said Moorman Scott, president.
Euclid Chemical also received a first-place award in the associate member plant category for initiatives to improve waste management, energy consumption, water use and safety at its Cleveland, Ohio, manufacturing plant. Additionally, it established a sustainability leadership team to track energy consumption and improve efficiency at its plants throughout North America.
The NPCA represents manufacturers of plant-produced precast concrete products and the suppliers of products and services for the industry. It provides its members with the technical support, educational opportunities, certification programs and informational resources to support their businesses. Learn more at www.precast.org.
With more than 400 products, The Euclid Chemical Company is a provider of specialty concrete chemicals and building products. For more information, visit www.euclidchemical.com.