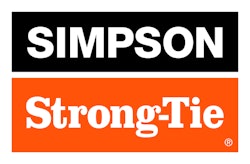 Simpson Strong-Tie has been named a Vendor Partner by the Associated Construction Distributors International (ACDI), a co-operative association of independently owned and locally operated distributors of specialty construction products and equipment.
Simpson Strong-Tie is now an ACDI Vendor Partner for concrete repair products, anchoring adhesives, mechanical anchors, direct fastening systems, and carbide drill bits and accessories.
"We are excited for this new opportunity to work with ACDI members," says Mike Clemente, Simpson Strong-Tie director of New Business Development for Infrastructure, Commercial and Industrial Construction. "This is great timing as we continue to expand our concrete repair, anchoring, fastening and carbide product lines."
For nearly two decades, Simpson Strong-Tie has focused on providing product solutions for concrete applications. In September of 2013, the company launched its repair, protection and strengthening systems product line, further expanding its product offering to customers and presence in infrastructure, commercial and industrial construction. For more information, visit www.strongtie.com/rps.
ACDI was founded in 1968 and has members in the United States, Canada and Mexico. Its distributors account for nearly $1 billion dollars in the sale of materials and equipment to the construction industry.
Companies in this article