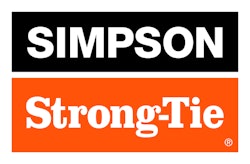 Simpson Strong-Tie has announced that Roger Dankel will be the President of North America Sales and Ricardo Arevalo will be Chief Operating Officer (COO), effective July 1, 2014.
These two new roles will replace Phillip "Terry" Kingsfather's current position as President and CEO of Simpson Strong-Tie. Kingsfather, who recently announced his retirement, will remain at Simpson Strong-Tie through the end of June to ensure a smooth transition.
"We wish Terry all the best in retirement and want to thank him for all that he's done for our company during his 35-year career," says Karen Colonias, CEO of Simpson Manufacturing.
"Roger and Ricardo are proven leaders, and their deep knowledge of our company, customers and industry will be instrumental in driving growth and maintaining our strong culture," added Colonias.
Dankel, will be responsible for the strategic leadership of the company's sales, customer support and distribution. Arevalo, will be responsible for the operational leadership of the company's product lines and related support functions. Dankel started his career at Simpson Strong-Tie in 1993 and has served as sales manager for the southeast branch since 1997. Arevalo joined Simpson Strong-Tie in 1999 and has served as Vice President of Engineering since 2008. Both Dankel and Arevalo will work from the company's home office in Pleasanton, Calif.
"I've had the privilege of working with the most talented employees and customers in the industry, and I know Roger and Ricardo are the right leaders to take on these roles and guide Simpson Strong-Tie into its next chapter of growth," said Kingsfather.
Companies in this article