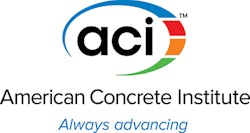 The American Concrete Institute's (ACI) Facebook page has reached 100,000 followers, the Institute announces.
ACI launched its Facebook page in early 2008, and since then has been sharing content to concrete industry members around the world. Over 100,000 people globally connect with ACI on its Facebook page. The top countries represented include the United States, India, Egypt, Peru, Pakistan, Iran, and Mexico.
"Providing the online community that connects over 100,000 concrete professionals around the world accelerates the Institute's ability to ensure a future where everyone has the knowledge needed to use concrete effectively to meet the demands of a changing world," says William E. Rushing, Jr., President, American Concrete Institute. "This milestone could not be more timely and significant."
ACI members, customers, and others who are interested in concrete have the opportunity to connect with the Institute through LinkedIn and Twitter, in addition to Facebook and ACI's YouTube channel. Currently, over 37,000 people are members of ACI's group discussion page on LinkedIn, and over 5,000 are following ACI on Twitter. Connecting with ACI on one or all of these social network platforms ensures timely updates on ACI's products, services, events, technical discussions, photos, and other industry news.
From concrete canoes to student competitions to the latest technical news, ACI will continue to use social media to connect with its concrete industry members around the world, ensuring that ACI remains accessible to everyone.
Connect with ACI on social networking sites by visiting the following links:
ACI on Facebook
ACI on Twitter
ACI on LinkedIn
ACI on LinkedIn Discussions
ACI on YouTube
Companies in this article