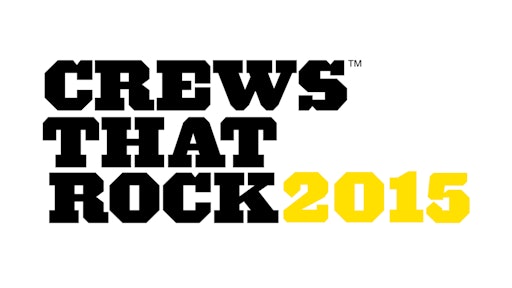 The World of Concrete has announced the finalists for the fourth annual World of Concrete (WOC) CREWS THAT ROCK competition. Sponsored by BASF, CREWS THAT ROCK honors concrete and masonry construction crews for their teamwork and contributions to the industry. Crews submitted their outstanding projects completed in 2014 to be entered to win CREWS THAT ROCK. The two winning crews will receive a trip to WOC 2015, prizes, and widespread industry recognition.
Dean & Derek, popular radio and TV hosts of DIY Network's "Rock Solid" and "Indoors Out," as well as PBS's "Victory Garden," have been invited to participate in the CREWS THAT ROCK CONTEST at WOC 2015. Dean & Derek (www.deanandderek.com) are a perfect fit to not only host the CREWS THAT ROCK Winners' Reception at WOC 2015, but also to take part in the Experts' Choice panel, helping to select the winning crews along with online votes.
The public is urged to vote online at www.crewsthatrock.com for their favorite entries in both for-profit and non-profit categories below.
The finalists are:
Commercial/For-Profit Entries
Addis Concrete - City Sidewalk City of Cincinnati
Belfast Valley Contractors - The Exchange at Potomac Yard
Belfast Valley Contractors - Hampton Inn Hotel
Building Restoration Specialties Inc. - Six Mile Kilns
Chamberlin Roofing & Waterproofing - Dallas Convention Center Ex Waterproofing & Storm Water Repairs
Clean Cut Concrete - Seneca Residence Polished Topping with Radiant Heat and Skylights
Concrete Authority - Fiorentino's Restaurant
Constructora Cimet - Torre Glorieta
Heuer Construction, Inc. - Colorado Street Reconstruction
International Union of Bricklayers and Allied Craftworkers - La Grange Park's Veterans Memorial
IW&G, Inc - Chicago Vocational Career Academy
J.T. Wimsatt - 8th & Hope
Langston Concrete Inc. - The Royal Gorge Bridge and Park
Masonry Cosmetics Inc. - Sorin Hall
Master Applications, Inc - Dagsboro Fire Department
P and H Concrete Inc - Bryerwood
St Francis Electric - Doyle Drive Tunnel Lights
T.B. Penick & Sons, Inc. - Santee Town Center
Western Waterproofing - Ameriprise Client Service Center/Ameriprise Financial Center
Community Service/Not-for-Profit Entries
Cunningham-Limp Development Company - Cody Medical & Community Health Academy
Decorative Concrete Council (DCC) - Good News Daycare Center
Evergreen Skateparks LLC - Thunder Park- Blackfeet Indian Reservation Skatepark
FRP Construction, LLC. - University of Arizona Underground Utility Tunnels
International Union of Bricklayers and Allied Craftworkers - La Grange Park's Veterans Memorial
Nicks Landscaping of Ohio LLC - Man Cave Give Away

The winner in each catergory will receive:
Up to $2,000 airline credit to fly the winning crew to WOC 2015 (flights to be booked through WOC Housing; details will be provided to winners).
A $500 American Express gift card awarded to each winning crew.
Each winning crew receives three complimentary rooms in an official
Two complimentary seminars per person (90-minute or 3-hour).
Gift bag of branded merchandise from WOC GEAR and BASF.
The winning crews will be honored at WOC 2015 on Wednesday, February 4.
Companies in this article