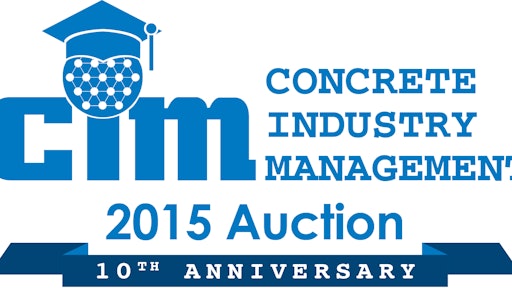 The Concrete Industry Management (CIM) program – a business intensive program that awards students with a four-year Bachelor of Science degree in Concrete Industry Management – is pleased to announce the following list of contractor-focused donated items for their tenth annual Auction at the World of Concrete. The Auction is scheduled for Wednesday, Feb. 4 in the North Hall Room N262 of the Las Vegas Convention Center. The silent Auction will be held from 11 a.m. to 12:45 p.m. PST and the live Auction begins at 1 p.m PST.

"Thanks to the tremendous response from the industry, we anticipate having the best CIM Auction ever," says Mike Philipps, CIM Auction Chairman. "In addition to our signature concrete mixer truck donated by Mack Trucks, Inc. and McNeilus Company, we have a variety of items targeted specifically for contractors."

This year's Auction also offers bucket list sports and vacation packages including: The Masters; The Rose Bowl; Indianapolis 500; NFL tickets; NASCAR races; NBA and NHL; San Francisco Bay sailing package; Los Angeles, San Antonio, Chicago, Cleveland, Dallas, Orlando, Nashville, Charlotte, New Orleans, New York and Las Vegas travel packages, college football tickets (Alabama, Notre Dame, Florida); quail hunts and much, much more!

To date, the following companies have donated these big ticket contractor-focused items for the Auction:
Silent Auction Items:
Blastrac – One week rental of Blastrac 1-10 DS Global Shotblaster and Blastrac 6-54 dust collector
Dayton Superior – One Tilt-Werks one-year subscription(total of 3 donated)
Diamatic – Diametic EC 180 110V 7" edge grinder, backing pad, and starter kit of pads
Diamatic – UltraFlor Polished Concrete School in San Diego for two people with airfare, hotel, and sales kit
Doosan Portable Power – Doosan BX-80WH Forward Vibratory Plate Compactor
Hilti, Inc. – Hilti TE 70-AVR0ATC Combihamemer with 3/4" x 13" drill bit at 14" x 3/16" pointed chisel
Humboldt Mfg Co. - Concrete pocket penetrometer H-4134 plus cap, tape, torch and pen
Husqvarna Construction Products - Husqvarna K760 14" power cutter with 14" vari-cut blade
ICRI – 4th edition of Concrete Repair Manual (hard copy and CD-ROM) – total of 3 donated
ICRI – One registration to the ICRI 2015 Spring Convention to be held at the Millennium Broadway New York Hotel in Manhattan on March 25-27
Meva Formwork Systems, Inc. – 28-day rental of 2,000 square feet of Meva Imperial Formwork
Oztec Industries, Inc. – Oztec BP-50a Backpack Vibrator with Oztec 2" RubberHead (HR188OZ) and 10" Flexible Shaft (FS10OZ)
Sky Climber LLC – Sky Stage Ultra complete 3-meter stage (36900-S03)
Solomon Colors, Inc. – Ten 60-pound buckets of Brickform Color Hardener
Solomon Colors, Inc. – Two 10-gallon buckets of Lythic DAY1 Troweling Aid
Tekla, Inc. – Ten-user Enterprise license of Tekla Field3D
Wagman Metal Products, Inc. – Twelve WX618SRP 6" x 18" steel-reinforced plastic, finish style power trowel blades
Wagner Meters - Rapid RH® 4.0 EX Complete Starter Kit Moisture Test for concrete floors
Live Auction Items:
Allen Engineering Corp. – 049790-Pro 446 Work-Behind Trowel, 9hp (approx.) Honda GX270
Camlever, Inc. – Four cubic yard round lay down bucket, model RLD-400
Caterpillar, Inc. & Caterpillar Dealers – One month rental of choice of skid steer loaders 272/262/246/236 or hydraulic excavator 308/305/304/303 or similar
Caterpillar, Inc. & Caterpillar Dealers - One month rental of choice of 938/930/924 wheel loader or 316/314/412 hydraulic excavator or similar
Diamatic USA – Diamatic Gas-Powered Concrete Grinder and Polisher (BMG 435G)
The Euclid Chemical Company – Curing and sealing package, including two pallets of any combination of Euclid Super Diamond Clear or Super Diamond Clear 350, two Chapin X-Treme contractor sprayers (#19049), two cases of Euclid Universal Color Packs, and two cases of EucoGrip 
Multiquip, Inc. – Multiquip Whiteman HHNG5 ride-on trowel
PNA Construction Technologies – CoVex CV-3000 installation saw
Somero Enterprises, Inc. – Somero 2015 S-485 Laser Screed Machine
Wirtgen America – One-month rental of Wirtgen America SP15 Slipform Paver
Once again this year, in addition to on-site bidding, internet bidding will be available on the Ritchie Bros. website, www.rbauction.com/heavy-equipment-auctions/cim-charity-auction. To participate in the Live Auction on-line, bidders must register one week in advance.
This year, all items are available for bid whether in attendance at the show or not. Bidding can begin on the 100+ items in the silent auction immediately and continue bidding on any mobile device straight through the event. The live auction items will only be available for bidding during the event itself, but can be bid on either in person or on-line. Auction participation instructions are available on the CIM website at http://concretedegree.com/auction/