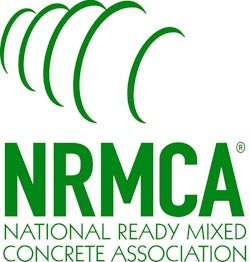 The National Ready Mixed Concrete Association has restructured its promotion, technical services and sustainability departments into two separate departments, effective immediately, announced NRMCA President Robert Garbini. Pending approval from the Board of Directors, the National Resource Directors Division, known more informally as Promotion, will be retitled as Local Paving and headed by Brian Killingsworth, whose formal title will be Senior Vice President/Division Head Local Paving. The new title reflects the elevation of Killingsworth to the senior vice president level.
A change reflected in his department is the naming of Amanda Hult as a senior director of local paving. Ms. Hult was previously senior director, pavement structures, formerly reporting to Senior Vice President of Sustainability Lionel Lemay. Now reporting to Killingsworth are Senior Vice President, Local Paving, Jon Hansen, Senior Vice President, National Resources, Glenn Ochsenreiter and Senior Directors, Local Paving, Phil Kresge, Doug O'Neill and Hult. Pending Board of Directors' approval, the hiring of an additional director of local paving is planned for the near future, Mr. Garbini said.
The NRMCA division formally known as sustainability that included departments on Buildings and Pavements will continue to be headed by Senior Vice President/Division Head Lemay and be renamed the Structures Promotion and Sustainability Department. Continuing to report to Lemay under this arrangement are Vice President, Sustainability, Codes and Standards, Tien Peng and Senior Director, Building Promotion, Gregg Lewis. (Click here for a complete look of NRMCA employees.)
Killingsworth, who joined NRMCA in 2011, has over 20 years experience in the pavement engineering business. In his role at NRMCA, he provides technical expertise and education to the ready mixed concrete industry and its customers to advance the applications and use of the various forms of ready mixed concrete for streets, local roads and parking areas. He also represents NRMCA before organizations that develop codes and standards for pavements. Prior to joining NRMCA, Killingsworth worked in private pavement consulting conducting research projects for national, state and local entities. He also developed numerous pavement designs for new and rehabilitated pavements, implemented pavement management systems, and conducted pavement forensic evaluations. Killingsworth is a professional engineer and holds both bachelor's and master's degrees in civil engineering from Texas A&M University.
"This major restructuring of NRMCA will more accurately reflect the long-term strategic goals of the ready mixed concrete industry and fulfill the wishes of our membership," said Garbini. "Both Brian and Lionel, and their respective staff, have clearly defined roles, which will no doubt advance NRMCA's overall mission of promoting concrete as the building material of choice."
NRMCA is celebrating its 85th year of representing the producers of ready mixed concrete and the companies that provide materials, equipment and support to the industry. It conducts education, training, promotion, research, engineering, safety, environmental, technological, lobbying and regulatory programs. Learn more at www.nrmca.org.