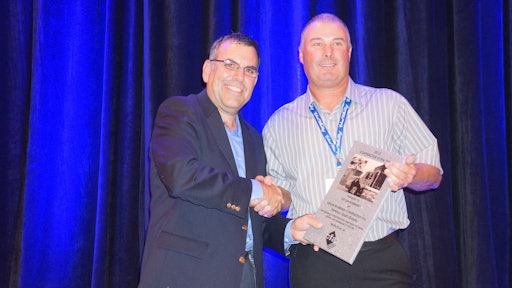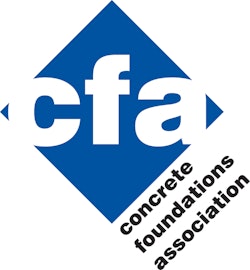 The Concrete Foundations Association (CFA) announced the 2015 award recipients at CFA Convention 2015 in Williamsburg, Va. on Friday, July 24, 2015. Awards include Contractor of the Year, Most Innovative Contractor, Associate of the Year, Most Valuable Player and the Kick-Start Membership Award. The awards signify the ultimate display of excellence for the cast-in-place concrete industry. The 2015 Safety Achievement Awards were also presented at the Awards Gala.
Contractor of the Year
The most frequently-awarded recognition for individuals from the CFA is the Contractor of the Year award. This recognizes the contributions of a poured wall contractor to the industry and often evidences the excessive efforts they make beyond their company's location and position in order to benefit the greater goals of the Association and the industry as a whole. The 2015 Contractor of the Year went to Lance Anderson of Lance Anderson Construction, Inc. in Yankton, S.D. Lance Anderson Construction, Inc. is licensed and working in South Dakota, Iowa and Nebraska.
"Lance embodies a large portion of the CFA membership, that is, contractors that work very hard, are excellent at their craft and maintain a connection with this Association to benefit their company goals," says Jim Baty, executive director of the CFA. "He has been a member in good standing since 2005, attending many of our World of Concrete seminars and the winter meetings held in conjunction with that event. Lance intermittently uses this network for information necessary to support his work and communicate the quality that he represents," said Baty.
Anderson's father, Wayne, started the poured foundation business in 1978, which Anderson purchased in 2006. Under Anderson's management the business has continued to grow. He has a true passion for the poured foundation business and is a professional civil engineer as well. His specialty is providing the most accurate foundation possible for his customer. He is always on the job leading his crew and stops at nothing to make sure everything is done right.
Most Innovative Contractor
The award for the most innovative contractor seeks to recognize a CFA member for their innovative spirit and creative ingenuity. Whether directly related to the art and science of concrete foundations, running a business or marketing a company, this award intends to raise awareness for the dedication of the many professionals found throughout this association that are continually pushing the industry to new heights. The 2015 Most Innovative Contractor went to Rich Kubica, president of K-Wall in Ashville, NC.
"Rich is not new to innovation," says Baty. "Many in the association are aware of his innovative spirit that led to one of the first insulation systems to be available for in-form rigid insulation support, and for his aggressiveness to go off-shore to build above-grade concrete homes throughout the British Virgin Islands," said Baty.
Rich Kubica is nominated for the innovation now evolving his market known as Monocast. This wall system has been exclusively born out of Rich's efforts and supported by Western Forms from a manufacturing perspective. His efforts were based on creating an engineered wall system that would not be subject to the extensive footing requirements of the western North Carolina market currently established for poured foundation walls under a prescriptive method. His innovation is technically advanced beyond the system known as Superior Walls, and has been successfully integrated on numerous projects with and without traditional cast-in-place walls. His precast (Monocast) walls have been delivered to fellow CFA members, such as Scott Smith, when traditional walls could not be obtained effectively or correctly. This system is an opportunity for any poured wall contractor to consider bringing into his/her market.
Associate of the Year
The Associate of the Year award is a new award offered by the CFA Board of Directors that seeks to recognize the commitment to this association and the special efforts of an individual from one of the many National Associate companies. It honors one of the many National Associate members for their commitment to supporting and growing the association. Their efforts are to be recognized in relationship to the mission and purpose of the CFA as well as their respective presence in the industry. National Associate members are the national supplier and manufacturer members of the Association and can be found in the CFA's active Products and Services Directory. The 2015 Associate of the Year was given to Tom Oury of Schwing America and current CFA National Associate board member.
"Tom was nominated by several CFA members for the amount of effort he has made in serving the CFA through the Board of Directors," says Baty. "Attending four meetings per year is not easy in today's busy world of business, and yet since being elected to the board, Tom has participated in the vast majority of meetings. His leadership on the board has led to new ideas and growth opportunities," stated Baty.
Most Valuable Player
An award with special history, the Most Valuable Player, honors the commitment of a company or an individual extending substantial dedication to the forward momentum and development found throughout the Association. The consideration for this award is based on a combination of intense service, activity, communication and dedicated energy. Previous recipients have been both member and non-member giving of themselves to such programs as Cold Weather Research and Alternate Fall Protection Planning. The 2015 Most Valuable Player award went to Dan Bromley, president of ABI Corporation in Lee's Summit, Mo.
The presence of Helix micro-rebar in the marketplace has created quite a stir. Still, without evidence of performance and contractors willing to step out and participate as well as implement the system into projects, the progress of development is much longer and difficult. Bromley found the opportunity to investigate the potential for this product to significantly impact his labor on projects enticing and proceeded to develop a research program with the manufacturer that would combine testing samples, actual walls and eventually modifying designs. The results hold evolutionary potential for the structural design and performance of cast-in-place foundation walls.
Kick-Start Membership
The Kick-Start Membership award is another new award that seeks to recognize the intentional effort of a new member within their first three years of membership to become integrated to CFA culture and active in the many opportunities and vehicles created for them. Participation is documented from events, programs, networking, communication, resources and many other factors. The 2015 Kick-Start Membership award went to Scott Stephens Construction of Wolfforth, Texas, a member since 2013.
Scott Stephens and Kristi Egenbacher joined the CFA when their company ColorSpreader was growing and expanding into new businesses. They found the opportunity to get into foundations in north central Texas and decided that participation in the CFA was a must. Since then they have attended multiple conventions, completed the ACI/CFA Certified Residential Foundation Technician exam and established themselves as active members of the association. Scott and his company have utilized the CFA's classified ads to expand their business with equipment and have submitted consistently to the CFA Hotline as well as communicating their own thoughts on questions.
Safety Achievement Awards
Given for the inaugural year were the 2015 CFA Safety Achievement Awards, a program seeking to recognize the commitment to safety and risk management among the hundreds of professional cast-in-place contractors found in CFA membership. "This program emphasizes the attention and commitment to safety and improvement throughout our industry," states Baty. "While not challenging to contractors to provide the information, it establishes a sound platform to benchmark their efforts and establish another level of awareness among their peers and the industry."
The CFA Safety Achievement Award program recognizes contractors in three defined contractor categories; that of Residential Foundation Contractor, All Concrete Contractor and Turn Key Contractor. In each category, company size is considered with sub-categories for total work hours of under 100k, 100k to 250k and over 250k work hours. Companies are recognized with awards for Best Overall Safety Achievement, Most Improved Safety Achievement, Zero Lost Time Accident and how they compare to the BLS category average.
Awarded in the category for Best Overall Safety Achievement for 2014 were Herbert Construction Company of Marietta, Ga. (Residential Foundation Contractor), Stephens & Smith Construction Company of Omaha, Neb. (All Concrete Contractor) and Michel Concrete Construction of Springfield, Ill. (Turn Key Contractor). The recognition for Most Improved Safety was awarded to Doggett Concrete Construction of Charlotte, N.C.
Along with these major awards given at the 2015 CFA Awards Gala, Executive Director Baty also recognized companies that have achieved Certified Company Status as well as those reaching a Membership Milestone ranging from 5 to 40 years.