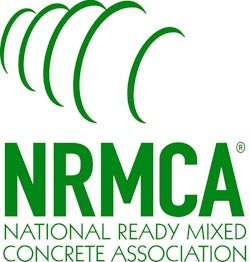 The National Ready Mixed Concrete Association has announced the winners of the 2015 NRMCA Commitment to Environmental Excellence Awards. The program offers NRMCA Producer members national recognition for outstanding contributions to protecting the environment and maintaining sound environmental management practices in their operations. The program salutes companies that have not only met, but surpassed governmental compliance requirements and demonstrated a commitment to environmental excellence through plant and staff investment.
Entries were reviewed by a panel of judges based on a written narrative covering 11 evaluation criteria along with photographs. This year's program provides awards in four categories based on a plant's production volume. Eligible plants include NRMCA Producer members located in the U.S., its territories or Canada.
"These plants have demonstrated that they are the 'best of the best' when it comes to being good stewards of the environment," says Gary Mullings, NRMCA senior vice president of operations and compliance.
"This is another example of the ready mixed concrete industry's goal of continuous environmental excellence," adds NRMCA President Robert Garbini. "These winning entries clearly demonstrate the incorporation of environmental management systems into their plants' operations."
The honored plants are listed here:
Category A: Less than 25,000 cubic yards of concrete produced:
1st Place Winner: Idaho Materials & Construction Ketchum Plant – Ketchum, Idaho
Runner-up: Chandler Concrete Company, Inc. Moneta Plant – Moneta, VA
Category B: Greater than 25,001 but less than 50,000 cubic yards of concrete produced:
1st Place Winner: Cemstone Products Company - Columbus Plant – Columbus, Minn.
Runner-up: CEMEX Coolidge Plant – Coolidge, Ariz.
Honorable Mention: Dolese Bros. Co. - Ardmore Plant – Ardmore, Okla.
Category C: Greater than 50,001 but less than 100,000 cubic yards of concrete produced:
1st Place Winner: Dolese Bros. Co. - South Norman Plant – Norman, Okla.
Runner-up: Preferred Materials, Inc. - Odessa Plant – Odessa, Fla.
Honorable Mention: Maschmeyer Concrete Company, Inc. Lake Park Plant – Lake Park, Fla.
Honorable Mention: Martin Marietta Valmont Plant – Boulder, Colo.
Honorable Mention: Ready Mix Concrete - Lincoln College View Plant – Lincoln, Neb.
Category D: Greater than 100,001 cubic yards of concrete produced:
1st Place Winner: CalPortland - Front Avenue Plant – Portland, Ore.
Runner-up: Dolese Bros. Co. - Yukon Plant – Yukon, Okla.
Honorable Mention: Campbell Concrete & Materials, LLC - Conroe Plant – Conroe, Texas
Honorable Mention: Eastern Concrete Materials Inc. , a division of U.S. Concrete, Inc. - Bogota Plant – Bogota, N.J.
Honorable Mention: GCC Mid-Continent Concrete, Co. - Tulsa Plant – Tulsa, Okla.
All plants receiving awards will be honored in September at this year's ConcreteWorks in San Antonio, Texas. Winning facilities will also be listed on the NRMCA web site.
Companies in this article