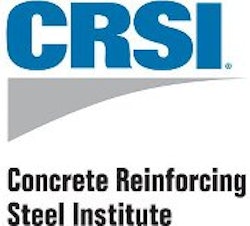 The Concrete Reinforcing Steel Institute (CRSI) announces the appointment of James L. (Pete) Diggs as Chairman of the Board along with four new officers to guide the Institute through its next two years of operations.

"I look forward to assuming stewardship of CRSI along with my fellow Board members," Pete Diggs says. "All of the work done by the staff and member companies solidifies the Institute as a respected resource in the concrete industry. We intend to continue to promote new initiatives while enhancing our relationships with peer organizations."

Diggs serves as vice president of reinforcing steel for Gerdau Long Steel North America. In this role, he is responsible for overall management and administration of the Reinforcing Steel facilities' (50) operational activities – including business strategies, policies and annual objectives. Diggs has 30 years of industry experience, including more than 25 years with Gerdau.

In addition to Diggs' appointment, new officers on CRSI's Board include Brad Cotrell, Commercial Metals Company, as Secretary/Treasurer; David Rosene, Gerdau, Chris Stowers, Commercial Metals Company, and Kevin VanDeven, Nucor Corporation, as At-Large Directors.

The full Board of Directors was approved at the Business Meeting held during CRSI's Fall Business & Technical Meeting on November 4th, 2015 at The Peninsula Chicago.
The 2015/2016 Board consists of:

At-Large Directors
Chairman – James L. (Pete) Diggs, Gerdau*
Vice Chairman ¬– Tim Thomas, American Steel Fabricators, Inc.*
Secretary/Treasurer – Brad Cottrell, Commercial Metals Company*
At-Large Director – Robert J. Stone, Nucor Corporation*
At-Large Director – Jeff Estep, Farwest Steel Corporation*
Past Chairman – Scott Stevens, Dimension Fabricators, Inc.*
At-Large Director – Louis Colarusso, ERICO
At-Large Director – John Kinnischtzke, Evraz Rocky Mountain Steel
At-Large Director – Keith LePage, Whitacre Engineering
At-Large Director – Richard Martini, Gerdau
At-Large Director – David Rosene, Gerdau
At-Large Director – Chris Stowers, Commercial Metals Company
At-Large Director – Kevin VanDeven, Nucor Corporation
*Executive Committee Member

Ex-Officio Directors
Chairman, Marketing Committee – William Brack, Harris Rebar
Chairman, Engineering Practice Committee – Dennis Hunter, Gerdau
Chairman, Member Services Committee – Matthew Schewe, Commercial Metals Company

Region Representative Directors
Northeast Region Director – Vacant
Southeast Region Director – Preston Sparkman, R&R Rebar Fabricators
Midwest Region Director – Jeffrey Albert, Harris Rebar
Greater Southwestern Region Director – Vacant
Western Region Director – Jeff Estep, Farwest Steel Reinforcing Company

Non-Voting Directors
Chairman, CRSI Education & Research Foundation – Robert J. Stone, Nucor Corporation
President and CEO – Dr. David McDonald, Concrete Reinforcing Steel Institute