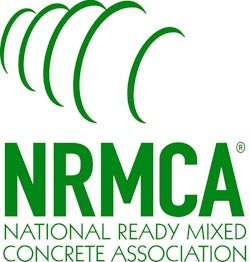 The National Ready Mixed Concrete Association presented the following awards during its annual convention held earlier this month in San Diego.
2015 William B. Allen Award – Hardy Johnson's more than four decades of service to the ready mixed concrete industry made him a very worthy recipient of this year's William B. Allen Award. He was employed at Tarmac America and its predecessor company, Titan America, and was president of its Florida Business Unit for 20 years. Hardy has worked in the industry for more than 45 years in ready mixed concrete, cement, aggregates and concrete block operations, primarily in the Georgia, Colorado, Virginia and Florida markets. Johnson served on NRMCA's Board of Directors and numerous NRMCA committees, including Government Affairs, Concrete Promotion, Research, Engineering and Standards, and Business Administration. Hardy was also a member of NRMCA's Executive Committee, serving as chairman for the 2004 – 2005 term. He also served as chairman of the RMC Research & Education Foundation in 2005. He is a past chairman of the Concrete Advisory Council of the Virginia Ready-Mixed Concrete Association, as well as a past member of its Executive Committee.
Johnson holds a bachelor's degree in business administration and master's in business management, both from the Georgia State University. He is now retired, leaving the industry in 2013.
The Allen award is named after one of the ready mixed concrete industry's most distinguished and accomplished figures, Bill Allen, who had more than 55 years of concrete and aggregates-related experience and had long been involved with many NRMCA activities and events.
NRMCA Chairman's Award – This award is given in appreciation of extraordinary dedication to NRMCA. This year's recipient is Karl Watson, Jr., who followed his namesake father into the ready mix industry and rose steadily to the top of his profession, including senior management positions at Rinker Materials and CEMEX along with being a former chairman of the Board of NRMCA.
Concrete Cares Award – The Manufacturers, Products & Services Division of the National Ready Mixed Concrete Association has awarded the 2016 Concrete Cares Award to The Don Chapin Company and The Shelly Company in recognition of their outstanding commitment to community service. The Don Chapin Company was recognized in the category for ready mix companies that produce less than 250,000 cubic yard of concrete annually. The company, based in Salinas, Calif., was honored this year for supporting many civic and non-profit organizations in its community, both in monetary donations and also equipment, materials and manpower. NRMCA judges were impressed with all these efforts, but singled out three projects in particular. The first, the Monterey County Sheriff's Memorial, commemorates those lost in duty. Don Chapin employees enlisted employees and local contractors to build the wall which was completed in early 2015. The second company project was a Boy Scout camp located in Big Sur, Calif.. When a forest fire destroyed the shooting range at Camp Pico Blanco, Don Chapin used his connections in the construction community to help lead a coalition of volunteers and donors that lead to reconstructing the range over several weekends. The last community effort noted by the judges was a learning and social services center for underserved youth in Monterey County. With the help of Don Chapin employees and other construction companies, Rancho Cielo was transformed on a 100-acre site that was formerly the location of a juvenile incarceration facility. Don Chapin employees helped demolish dilapidated buildings and cleared rubbish and debris. Rancho Cielo opened its doors in October 2004. The value of the reconstruction project was well over $50,000 and company employees still support the organization today.
The Shelly Company was honored in the category for ready mix companies that produce more than 250,000 cubic yard of concrete annually. The company, based in Thornville, Ohio, was honored this year for its wide range of charitable and community-based efforts throughout Ohio. The Shelly public relations manager meets annually with the general managers of each of the company's four divisions to discuss community outreach plans. For more than a decade, Shelly's two employee‐driven Adopt‐A‐Family and Community Action committees, comprised of employees in its Southern and Northwest divisions, have raised almost $94,000 for more than 58 organizations throughout Ohio. Another employee‐driven outreach is The Shelly Ready Mix themed truck program. These "moving billboards" raise awareness for charities chosen by Shelly employees.
For 2016, The Shelly Company is again teaming with the American Cancer Society on employee wellness opportunities and community event partnerships. It will also continue holding career fairs, with an emphasis on hiring veterans and reaching out to customers to learn their preferences for charity support.
National High School Essay Contest – This year's winner of the National High School Essay Contest is Emalee Haynes of Kentucky whose essay described how concrete played a major role throughout her father's military deployments. It was revealed to Emalee that concrete provided shelter and safety for her father and the soldiers that served with him and that concrete was also used to rebuild clinics and schools in devastated communities in the Middle East. Emalee learned that concrete is durable, sustainable and its protective attributes contributed to helping the U.S. Army fight the war against terror. Haynes received a college scholarship check in the amount of $2,000.
2016 Promoter of the Year – NRMCA's Promoter of the Year Award is presented for outstanding contributions in support of concrete promotion in recent years by an employee of an NRMCA Producer member. Zach Rich, director of concrete promotion/sales at Silvi Concrete, Fairless Hills, Pa., is this year's winner because of his creative, passionate and effective efforts in promoting concrete.
Rich graduated from Clemson University in 2003. Since joining Silvi Concrete in 2006, he has had outstanding success promoting concrete. During 2013/2014 he converted more than 1.6 million square feet of planned asphalt projects to concrete. In 2015, facing the challenge of lower asphalt prices in his New Jersey and eastern Pennsylvania market area, Rich has focused on expanding the use of concrete on paving projects where it was already being utilized to a lesser degree. He also expanded his efforts on engineers that have worked with concrete in the past, resulting in several hundred thousand square feet of additional parking lot business. Already this year, working with NRMCA's Doug O'Neill and Amanda Hult, Rich has lined up the use of more than one million square feet of concrete for a two-building warehouse project in Woodbridge, N.J.
Part of his success comes from advocating advanced concrete innovation and technology, such as 3D lasers screeds, tilt-up construction techniques and anti-freeze admixtures. Rich is also advancing NRMCA's Low/Mid-Rise Building Promotion Plan, which he expects to pay strong dividends in coming years.  He is also very active in support of industry organizations besides NRMCA, including the New Jersey Concrete & Aggregates Association, and he is now serving as president of the state chapter of the American Concrete Institute.
2016 Affiliate Promoter of the Year – NRMCA's Affiliate Promoter of the Year Award is presented for outstanding contributions in support of concrete promotion by an employee of an NRMCA affiliate partner. Over the past decade, Andrew Marks of the Puget Sound Concrete Specifications Council (PSCSC) has proven himself as one of the premier champions of concrete in the country and as such has been named this year's award winner. Marks is a professional civil engineer registered in Washington and Oregon. He holds bachelor's and master's degree in civil engineering with an emphasis on water and wastewater from the University of Idaho and is a recognized expert in concrete materials. Prior to joining PSCSC, Mr. Marks was a regional manager for a major Northwest materials producer and a field engineer for the Portland Cement Association (PCA).
Those who have worked with him testify to his professionalism, passion and expertise that have been a tremendous benefit to concrete promotion across the state of Washington and beyond. He has a stellar record of gaining conversions to concrete as a result of his activities. Examples of projects moving forward now following years of his efforts are the Port of Tacoma Road and the Logistics NW building, including concrete floors, walls and parking areas. Just these two projects represent more than 24,000 cubic yards of concrete. Andy's successful projects for PSCSC approach 850,000 cubic yards in total.
Much of Marks' value to the industry comes through not just his promotional outreach to specifiers, developers and owners, but also to the leadership and professional development support he provides to PSCSC members and other ready mixed concrete promoters. Andy provides support for other local and national trade associations as well, including NRMCA, PCA and the American Concrete Pavement Association, and he is a past president and current director of the Washington chapter of the American Concrete Institute.
2015 State Association of the Year – The Tennessee Concrete Association (TCA) is the winner of the 2015 State Association of the Year Award. Among TCA's accomplishments last year was the recently completed net-zero building which gained them national recognition from the Concrete Foundations Association. TCA showcased its facilities as it hosted the University of Tennessee College of Architecture's 2015 Summer Studio, bringing an entire class of soon-to-be architects to spend the entire summer on-site learning about specific development projects. Also in 2015, TCA has offered a wide variety of educational seminars at two statewide Tennessee Stormwater Association events in addition to working directly with Chattanooga and Knoxville/Know County to hold local events in their respective cities. Additionally, TCA supports the Concrete Industry Management Program at Middle Tennessee State University with a four-year scholarship (worth $8,000 over four years). Since the CIM program's inception, TCA has issued scholarships to 35 college students.
Richard D. Gaynor Award – NRMCA's Research Engineering & Standards (RES) Committee selected Dr. Kenneth C. Hover as the recipient of the 2016 Richard D. Gaynor Award. The award is named Richard D. Gaynor who served as NRMCA executive vice president when he retired in 1996. The Gaynor award recognizes individuals who have shown excellence, through their personal dedication and devotion, and have made significant contributions to the ready mixed concrete industry in the areas of research, engineering and standards.
Dr. Hover is professor of civil and environmental engineering at Cornell University in Ithaca, N.Y. He teaches reinforced and pre-stressed concrete design, concrete materials and construction management. He has received several awards as an educator. He has been a primary instructor in the National Highway Institute course for state highway agency personnel. His research has focused on freeze-thaw durability, optimizing concrete mixtures, fresh concrete testing and impact of construction operations and environment on concrete in-place quality. His research has always had a practical focus and has benefited the ready mixed concrete industry. He worked closely with Gaynor on various initiatives from pumping concrete to code requirements for concrete materials. His research has generated more than 300 papers and reports. He has served as a consultant on more than 120 high-profile projects in the U.S. and abroad. Dr. Hover has delivered several presentations at NRMCA technical conferences and at industry seminars.
He holds bachelor's and master's degrees in civil engineering from the University of Cincinnati, and a Ph.D. in structural engineering from Cornell University, the latter supported by an Exxon Fellowship. He is a licensed engineer in Ohio and New York.
Joseph E. Carpenter Award – NRMCA's Operations, Environmental & Safety Committee (OES) named Rickie Grooms, principal for Grooms Equipment/Petroleum Tec and representative for Continental Mixers, Burlington, N.C., the 2016 Joseph E. Carpenter Award recipient. The award is named in honor of Joseph E. Carpenter of Rinker Materials, West Palm Beach, Fla., who was instrumental in the formation and early operation of the NRMCA Committee on Maintenance. The award was instituted in 1988 and is presented annually to persons who have demonstrated outstanding lifetime contributions to the ready mixed concrete industry in the fields of operations, environmental and safety.
Grooms was named the 2016 award recipient for his longtime commitment to the OES Committee and the ready mixed concrete industry.  Rickie, a past OES Committee Operations Task Group chairman, has worked for 20 years in the concrete industry. Grooms is the owner and operator of two of his own companies, Grooms Equipment and Petroleum Tec. As an equipment manufacturer, Grooms has continued to support NRMCA and the OES Committee by continuing his attendance at meetings and offering his financial support. He has always volunteered his time for many different projects for NRMCA and the committee, one of which is providing time and equipment for every annual NRMCA's National Mixer Driver Championship. He also was involved with developing the Fleet Manager Certification Course.
Children's Art Contest – The contest was open to children up to grade 12 who have a relationship with an NRMCA member. NRMCA received 112 entries that were judged only against others in their grade category on originality, effort, creativity, composition and interpretation of this year's theme, Ready Mixed Concrete Truck Driving Safety. The winners were as follows:
Pre-K - K Winners:
1st: Adalynn Kauzlick, sponsored by Tim Kauzlick, CEMEX, Palm City, Fla.
2nd: Lucas Trogdon, sponsored by Jeff Sumrell, Argos, Raleigh, N.C
3rd: Selah Chesney, sponsored by Michael Narvaez, Ceres, Calif.
1-3 Winners:
1st: Kensey Skulick, sponsored by Tony Skulick, CEMEX, Shingle Springs, Calif.
2nd: Sophia Deveraux, sponsored by Danny Deveraux, CalPortland, Arroyo Grande, Calif.
3rd: Summer McCollum, sponsored by Becky McCollum, Chaney Enterprises, Chesapeake Beach, Md.
4-6 Winners:
1st: Ashlynn Skulick, sponsored by Tony Skulick, CEMEX, Shingle Springs, Calif.
2nd: Barrett Nieman, sponsored by Melanie O'Regan, CalPortland, Hesperia, Calif.
3rd: Jenna Leep, sponsored by Julee Chalmers, Ozinga, Schererville, Ind.
7-12 Winners:
1st: Tae-Kyung Kim, sponsored by Yao-Jae Kim, Texas State CIM faculty/NRMCA member, Austin, Texas
2nd: TJ Ormiston, sponsored by Tyler Ormiston, CalPortland, Walnut, Calif.
3rd: Claudia Ramos, sponsored by Raymond Balli, Right Away Redy Mix, Brentwood, Calif.