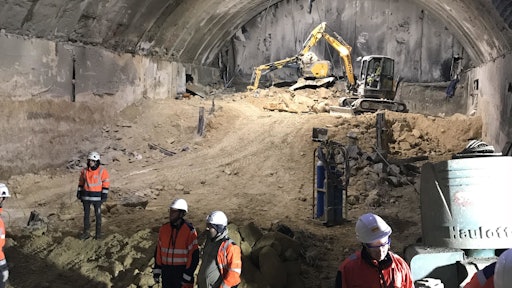 3D Laser Mapping
Underground construction and mining projects are set to be revolutionized by the latest software solution from geo-spatial specialist 3D Laser Mapping.
PROCESSMONITOR LIVE is a LiDAR based platform which provides real-time, automated measurements of underground surfaces. Designed to be deployed in underground mining, construction and tunnel environments, the unique scanner and software package provides a visual representation of surface change in processes such as sprayed concrete application, tunnel constructions and stability monitoring.
The first of its kind, mobile solution can be fixed in place, attached to heavy machinery or mounted to construction vehicles to eradicate the need for manual measurements, increasing health and safety for onsite teams.
The unique scanner and software package was originally designed in response to a request from Jetcrete, a specialist shotcrete operator based in Australia and has been used extensively by its underground mining team.
As David Primhak, sales and marketing director of 3D Laser Mapping, explains, the new solution promises to revolutionize the way underground construction projects are monitored.
"PROCESSMONITOR LIVE is the only choice for those looking for a simple to use, real-time, LiDAR platform which has been designed specifically for underground construction use. Automatic change detection can make the difference between projects being completed on time and with zero incidents in environments that are notoriously hazardous for workers.
"This intelligent software package offers a real opportunity to improve not only the efficiency of construction processes, but also to automate tasks that are time consuming and complex to manage and monitor.
"For sprayed concrete applications, this package helps save money through wasted materials as it can measure the thickness and quantity of applied shotcrete at each stage of the process. For tunnel construction and maintenance projects, the system can measure changes in the target surface whether as an early warning signal of displacement or as a way of measuring and monitoring the excavation process.
"Each scanner can be set to take measurements automatically or manually, either on demand or repeatedly over a period of time. The software interface is so easy to use and interpret that it can be used by anyone who can use a smartphone"
PROCESSMONITOR LIVE offers site operatives and management teams real-time visual intelligence at the touch of a button, without the need for numerous static scanners or prisms.
Ed. Note: 3D Laser Mapping was formed in 1999 and provides specialist laser scanning solutions to help some of the world's biggest mining companies, surveyors and contractors to capture and analyze their environment in 3D.