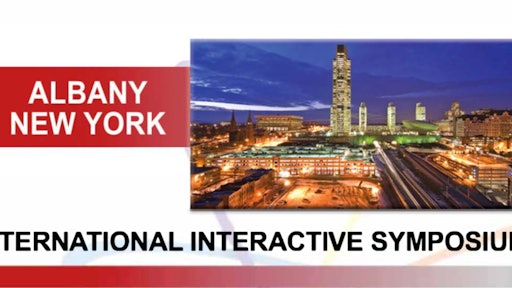 SAVE THE DATE
June 2-5, 2019
Hilton Albany, New York
Click here to reserve your room!
The Second International Interactive Symposium on Ultra-High Performance Concrete (UHPC) will be held in Albany, N.Y. from June 2-5, 2019. This event will build upon the success of the premiere event which took place in Des Moines, Iowa in July of 2016. The 2019 symposium will continue to unite the UHPC community towards additional learning, networking, and advancement of this innovative technology by:  

Sharing knowledge about UHPC applications and opportunities
Broadening technical depth and identifying knowledge gaps
Growing the UHPC family working together to achieve similar goals
This symposium will bring together material scientists, concrete professionals, structural & bridge engineers, consultants, contractors, students, producers, suppliers, and building enthusiasts for a three-day event that will include technical and interactive sessions, networking receptions, local tours, a student competition, an awards banquet, and more.
Call for Abstracts

The scientific committee will be opening up for abstract submittals on August 15, 2018. More details about the abstract submittal process and paper/non-paper requirements will be provided in a subsequent announcement, so stay tuned!
In the meantime, let us know about your UHPC interests by completing the brief 3-minute survey below. Your input will be of value as we finalize the session topics. Click here to take the SURVEY.
Innovation Awards
New to the 2019 symposium is the inaugural Ultra-High Performance Concrete Innovation Awards. These awards will celebrate exemplary uses of UHPC in buildings, structures, and non-structural applications. Awards will be presented to innovative applications by architects, engineers, project owners, and material specialists that demonstrate excellence in design, aesthetics, and craftsmanship in fabrication and construction using UHPC materials and/or elements.
For more information about the Innovation Awards, please click here.
Nominations will be accepted beginning September 15, 2018.
Student Competition

Students from universities around the world are invited to participate in the Second International UHPC Student Competition to compete for cash prizes (and bragging rights). Student teams will design and fabricate structurally efficient UHPC flexural beams with the goal of maximizing flexural strength while minimizing unit weight. Each student team will prepare a written report, a display poster, and a short video prior to performing destructive testing of their beam at the symposium in Albany, New York.
For more information about the Student Competition, please click here. The deadline for student team enrollment is January 31, 2019.
Sponsor/Exhibit
Several sponsorship opportunities are available to elevate your organization's visibility at the symposium and to help support the events. It is through the generous contributions of sponsors like you that allow us to offer a truly unique and memorable experience. We are also offering an exhibiting opportunity at our Monday evening reception for a small fee of $500 to further advertise your organization's products and/or services.
For more information about Sponsorship and Exhibitor Opportunities, please click here or contact us at uhpc@iastate.edu.
Symposium  Chairs
The Second International Interactive Symposium on UHPC is organized by a committee of ultra-high performance concrete experts led by co-chairs:
Dr. Tess Ahlborn, Michigan Technological University
Dr. Benjamin Graybeal, Federal Highway Administration
Dr. Sri Sritharan, Iowa State University
For more information, contact uhpc@iastate.edu