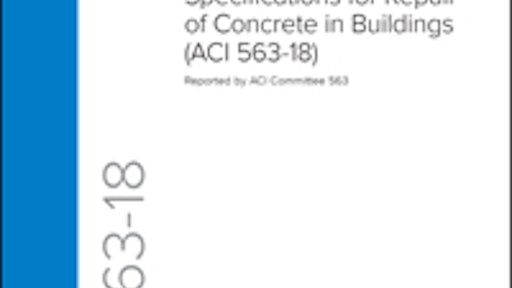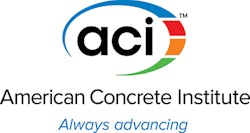 The American Concrete Institute announces the availability of important new specifications for concrete industry professionals: ACI 563-18: Specifications for Repair of Concrete in Buildings.
ACI 563-18 Specifications for Repair of Concrete in Buildings is a reference specification that the Architect/Engineer can apply to any construction repair and rehabilitation project involving structural concrete by citing it in the Project Specifications. Mandatory requirements and optional requirements checklists are provided to assist the Architect/Engineer in supplementing the provisions of this Specification, as required or needed, by designating or specifying individual project requirements.
"The first of its kind, ACI 563-18 joins ACI's growing family of concrete repair industry documents aimed at demystifying concrete repair and facilitating the delivery of high quality, well-executed, cost-effective concrete repair solutions," states Tracy Marcotte, Principal, CVM, and Chair, ACI Committee 563: Specifications for Repair of Structural Concrete in Buildings. "ACI 563-18 can be tailored for any project, big or small, using conventional concrete or proprietary repair materials for any project delivery type, from traditional design-bid-build to design-build, and for both private and public projects. Sections include typical concrete and reinforcement requirements plus those particular to repair projects, including shoring and bracing, as well as existing reinforcement and concrete surface preparation. Architects, engineers, and specifiers will appreciate the minimum basic requirements encoded into the specification, with guidance included for tailoring companion technical drawings and specifications to communicate specific project needs. Owners and contractors will appreciate the clear delineation of responsibilities, QA/QC, and documentation requirements, facilitating no surprises in procurement and execution of the work."
The document covers general construction requirements for all repair work; shoring and bracing of the structure or member to be repaired; concrete removal and preparation of the concrete substrate for repair and defines common equipment and methods; materials and proportioning of concrete; proprietary cementitious and polymer repair materials; reinforcement; production, placing, finishing, and curing of repair materials; formwork performance criteria and construction; treatment of joints; embedded items; repair of surface defects; mock-ups; and finishing of formed and unformed surfaces. Provisions governing testing, evaluation, and acceptance of repair materials as well as acceptance of the repair work are included. Sections 9 and 10 incorporate by reference two other specifications—ACI 503.7 and ACI 506.2—into this ACI Standard to cover crack repair by epoxy injection and shotcrete, respectively.
ACI 563-18 complements ACI 562 Code Requirements for Assessment, Repair, and Rehabilitation of Existing Concrete Structures. The ACI 562 code requirements combine the Institute's historical knowledge with state-of-the-art resources on the evaluation, repair, and rehabilitation of concrete buildings. ACI 562 provides minimum performance requirements that address the unique nature of existing building construction.
ACI will host a webinar through ACI University on ACI 563 Specifications for Repair of Concrete in Buildings on December 4, 2018.  Details at ACIUniversity.com.
Learn more about ACI 563-18, and purchase at concrete.org or by calling (248) 848-3700. Learn more about ACI resources on concrete repair at concrete.org/repair.