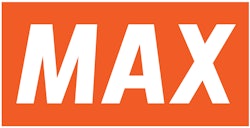 Bruce Imig becomes first employee ever inducted into the MAX Sales Hall of Fame.
The MAX Sales Hall of Fame award was initiated to recognize the sales result of career MAX employees. Imig celebrated his ten-year anniversary with MAX on March 24, 2018. Throughout his career he has established his region as the leading performer year after year in sales volume and growth. He has led by example on jobsites, trade shows and distribution calls. Imig has initiated and helped develop many of the programs and policies that MAX has introduced over the 10 years. He has also hired and trained numerous MAX Sales Executives to high level performers in sales and sales plan execution. He was also recently promoted to Sr. Vice President of Sales in Western North America.
MAX congratulates Imig on his achievement and thanks him for the years of support he has demonstrated in helping MAX grow in North America.
"I really appreciate this honor. With the products and sales support we have, the sky is the limit for us. I look forward too many more years with MAX", says Bruce.
MAX is a leading international manufacturer that has been developing innovative, state-of-the-art construction tools and office products that have set the industry standards for quality and reliability since its founding.
MAX USA CORP. is headquartered in Mineola, NY, and is owned by MAX CO., LTD. which is headquartered in Tokyo, Japan. MAX is recognized as a market leader in quality manufacturing of pneumatic nailing tools for over 70 years. MAX has several divisions employing more than 2,000 people worldwide including over 200 R&D engineers.