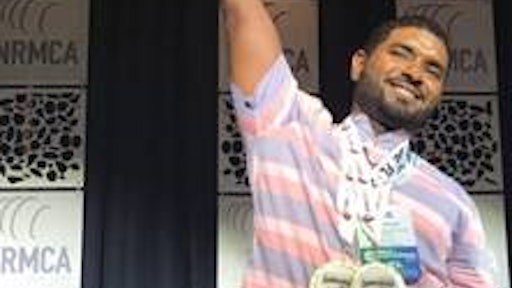 Ready mixed concrete mixer truck driver Luis Martinez from Maschmeyer Concrete of Orlando, FL, earned top honors at the 2019 National Ready Mixed Concrete Association's (NRMCA) National Mixer Driver Championship. The event was held in October at the Gaylord Palms Resort and Convention Center just outside Orlando in conjunction with NRMCA's ConcreteWorks 2019. Martinez also earned the champion's check of $5,000. He has been driving for Maschmeyer Concrete for five years and was the runner-up in the 2017 Florida Concrete & Products Association State Safety & Skills Competition.
This year's contest "was the largest group of drivers to ever compete" in the 14 years the event has been held, said NRMCA Executive Vice President of Operations and Compliance Gary Mullings. Some 96 drivers, which included state rodeo champions as well as NRMCA Producer member company champions from around the nation, competed to be crowned the "Best of the Best." Martinez earned champion based on a cumulative score derived from competitions that included a driving challenge course, visual vehicle inspection, reaction-time test, delivery ticket station and 2-hour written examination. Awards were presented for the top five finishers. The Truck Mixer Manufacturers Bureau (TMMB) was the premier sponsor of the event.
Second place, and a check for $2,000 from TMMB went to: Bruce Mitchell of Chestertown, IN. Mitchell is a veteran driver of more than 16 years and drives for Ozinga Ready Mix Concrete, Inc. He is the reigning Indiana Ready Mixed Concrete Association Truck Rodeo Champion.
Third place, and a check for $1,000 from TMMB, went to: Greg Browne of Olympia, WA, who has been driving for Miles Sand and Gravel Company for nine years. Browne has won the Washington State Rodeo Champion twice, most recently last year.
Forth place finisher, receiving a TMMB check for $600, was: Michael Trierweiler of Santa Rosa, CA. Trierweiler has been driving for CEMEX for the last six years and is the reigning 2019 CEMEX Bay Area Safety Rodeo Champion.
Fifth place finisher, receiving a check for $400 from TMMB, was: Ronald Lengyen from Silvi Construction Products. A resident of Columbus, NJ, Lengyen is a veteran driver of more than 34 years. He is a Certified NRMCA Concrete Delivery Professional.
Also honored at the driver awards banquet were drivers who distinguished themselves at various stages of the competition.
Russel Walton, Jr. from Howlin Concrete, Owings, MD,

—

top scorer of the "Closest to the Egg" station
Lee Basil Pierce from Argos USA, Cumming, GA,

— 

top scorer at the "Delivery Ticket" station
Jacob Simpson from Sequatchie Concrete Services, Ringgold, GA,

— earned the

title of "Fastest in the Nation"
Victor Garcia from Maschmeyer Concrete, Orlando, FL, and John Marzalik from VCNA Prairie, Algonquin, IL,

— top scorers at

the "Inspection Station"
Bobby Bates from Thomas Concrete, Ball Ground, GA,

— highest score on the written exam and title of "Smartest Driver in the Room"
The popular "Bowling Station" returned to the competition for the seventh year, and seven drivers scored a nine:
Henry Arrington from CEMEX, Lakeland, FL
Scott Cato from Hedges Bros. Concrete, Dayton, OH
Andre Ferreira, from US Concrete, Martinez, CA
Antonio Ortega from CalPortland, Glendale, AZ
John Poehler from Hawkeye Ready Mix, Columbus Junction, IA
DJ Pusey from CEMEX, Naples, FL
Kelly Rorie from Chandler Concrete, Hillsboro, NC
Stuart Wells from Vulcan Materials Company, Dundalk, MD
Drivers also again competed in the "Chute Hoops" station. An amazing 74 drivers successfully made a basket with a basketball rolling down a moving concrete chute. Finally, taking the top spot on the Driving Challenge Course by outscoring all others was the eventual champion, Luis Martinez from Maschmeyer Concrete.