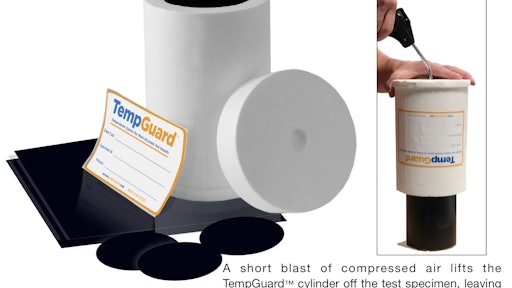 Rapid temperature declines in job-site concrete test cylinder specimens can create low strengths. TempGuard insulated test cylinder molds will keep test specimens significantly warmer during the initial, critical curing period, resulting in higher and more accurate test cylinder strengths. The insulating properties of durable, high-density EPS foam, from which TempGuard cylinders are made, prevents winter's cold or summer's heat from creating harmful temperature changes in concrete test specimens. Lab tests proved that TempGuard test specimens took five times longer to reach 32°F than samples stored in plastic cylinders. (Ref: DLN Test, Feb. 2012). 
TempGuard helps avoid costly re-sampling and re-testing of low strength specimens that were compromised by cold temperatures, faulty curing boxes or delays in getting the original, low-breaking test specimens to the lab.
Using TempGuard reduces the need for job-site curing boxes and the hassles associated with curing box set up, operation and maintenance.
In addition, due to the tight closure provided by the TempGuard lid, a higher test specimen humidity level is maintained.

 

This further improves the specimen's curing environment, helping improve test cylinder strengths.
Each high-density EPS foam TempGuard cylinder comes with a removable liner (plus five extra liner sets) that makes de-molding and reuse very easy.

 

Experience has shown that each TempGuard cylinder can be used an average of six times.

This brings the cost per sampling below that of alternative cylinder molds; which, along with its other functional benefits, makes TempGuard a positive contributor to the ROI on every project.
Request More Information
Fill out the form below to request more information about
Insulated, Re-Usable TempGuard Concrete Test Cylinder Mold