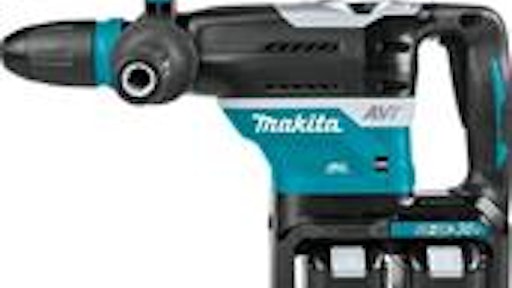 Makita has broken new ground in concrete hammers with the new 18V X2 LXT (36V) Cordless 1-9/16" AVT Rotary Hammer with AWS. The XRH07 is loaded with advanced engineering that gives contractors a cordless solution for concrete drilling and chipping at up to 1-9/16" capacity, but with significantly lower vibration and AWS Bluetooth technology that enables wireless communication with a compatible dust extractor. 
The Makita 18V X2 LXT (36V) Brushless 2.1 Gallon HEPA Dust Extractor with AWS (model XCV08Z, sold separately) is powered by two 18V batteries for maximum performance and combined with XRH07, meets table 1 of the OSHA silica exposure regulation 29 CFR 1926.1153 for handheld rotary hammer drills. In addition to the XRH07 AWS™ Rotary Hammer, Makita is releasing four additional AWS-equipped tools including a 10" miter saw, 6-1/2" plunge circular saw, and two 4-1/2" – 5" Grinders. Users benefit with an expanding AWS system that includes cordless solutions for concrete, metal and woodworking.
Makita AVT is an internal counterbalance system that greatly reduces vibration for increased user comfort and greater efficiency. Makita offers an AVT solution in every major hammer category, from 1" to 70 lb. The XRH07 is the first Makita cordless AVT rotary hammer, and one of only four Makita concrete hammers with the new Advanced AVT, which extends AVT with a synchronized three-component system:
Air Actuated Counterbalance directs air pressure from the crank and barrel room into the counterbalance cylinders to move counterweight pistons in the opposite direction of the drive piston, which actively reduces vibration.
Vibration-Absorbing Housing features a spring-loaded main handle and upper housing that move independently of the motor and drive mechanism, engineered to isolate vibration away from the user.
Integrated Damper Spring at the base of the impact bolt is engineered to absorb impact vibrations from the drill bit.
 The new XRH07 has the lowest vibration in its class at only 5m/s². The efficient Makita brushless motor delivers 11.4 Joules (8.4 ft. lbs.) of impact energy. It has a maximum concrete drilling capacity of 1-9/16" with an optimum range of 5.8" to 1-1/4".
Additional features soft start for more control and greater accuracy, variable speed control dial, and a torque-limiting clutch.
The XRH07 offers 2-mode operation for "chipping only" or "hammering with rotation", as well as 24 bit angle settings and a one-touch sliding chuck for quick bit changes.
Request More Information
Fill out the form below to request more information about
MAKITA 18V X2 LXT (36V) Rotary Hammer