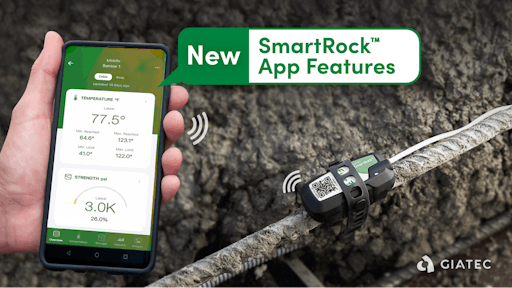 Giatec Scientific Inc.
SmartRock  is the world's leading wireless concrete temperature and strength sensor, helping construction companies build structures faster, safely, and more efficiently. These user-friendly sensors are easily installed in the concrete formwork (on the rebar) before pouring to monitor in-situ temperature and maturity according to ASTM C1074. The wire-free logger continuously records the measured temperature of any concrete pour in real-time. These results are analyzed automatically onsite (to determine the in-place concrete strength) using the free SmartRock app, (Available for both Android/iOS mobile devices.)
Ideal for applications such as:
Formwork removal timing
Post-tensioning
Optimizing curing conditions
Saw cutting
Controlling quality in the field
Monitoring temperature gradients in mass concrete
Opening roads to traffic
October 2020 Update: Giatec announced a fresh and intuitive user interface design, giving contractors access to a more comprehensive analysis of concrete performance.
All the updates have been designed to reflect SmartRock customers' fast-paced environment on construction jobsites by speeding up and enhancing the ease with which they can collect and analyze important concrete data, a process which oftentimes directly effects project schedules. With these upgrades, SmartRock users can now activate multi-sensor processing options which allow them to automatically connect to every embedded sensor within range and download their data all on one page within the app. This streamlines the process of collecting and analyzing sensor data. Furthermore, the new design of the app includes easy-to-interpret gauges that provide more thorough details and insights into the temperature and curing conditions of placed concrete. 
Software includes:
Real-time data display (e.g. temperature, strength, max-min values, and graphs)
Maturity calibration database
Free Android and iOS apps for smartphones and tablets
Project management tools including live data sharing
Full PDF reporting and CSV data exporting
Giatec 360 Cloud Dashboard (user/data management, predictive analytics, and more!)
Integration with project management applications (e.g. Procore)
Hardware includes:
Wire-free and wireless technology

Rugged and waterproof design
Easy installation and activation by tying the wires together

Extended temperature sensor cable for mass concrete
Long battery life

   

Cloud Dashboard

Patents pending
Request More Information
Fill out the form below to request more information about
SmartRock Wireless Temperature and Strength Sensor and App for Concrete