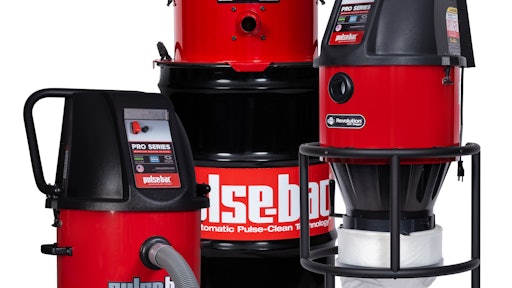 Pulse-Bac Vacuum Systems announces the release of the new PRO-Series line of vacuums for silica dust control, jobsite clean up and more. The design changes in the new Pulse-Bac PRO-Series make for a more reliable and productive vacuum. Not only are they more reliable but are priced lower than their predecessor, the Pulse-Bac 1000 Series.
The new Pro Series design incorporates a new hood giving Pulse-Bac a sleek new look, moves the fuse to the outside nameplate for quick and easy replacement, incorporates a new valve design for controlling the pulsing technology that contains no pins or fasteners, just one continuous piece.




Also featured is a new control board to control filter pulsing, tank sensors, remotes and electrical.




To put it simply, this is the most reliable and productive series from Pulse-Bac in their almost 20-year history of manufacturing vacuums.




The all-new Pulse-Bac Pro Series heads will fit the existing 1000 series 20 Gallon Tanks, Extenders and Baggers. In other words, if you already own a Pulse-Bac, you can upgrade your vacuum head to the new Pro Series and fit it to your existing tank option.
Request More Information
Fill out the form below to request more information about
Pulse-Bac Vacuum Systems Announces the New PRO-Series Line of Vacuums