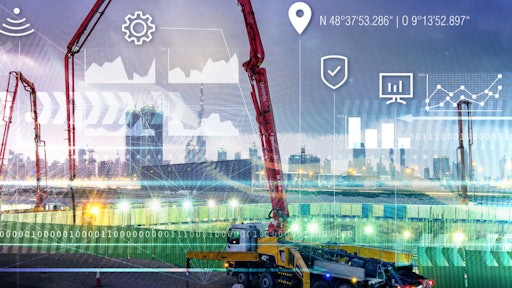 Putzmeister

Earlier this year, Putzmeister America Inc. (Putzmeister) announced a brand-new telemetry offering. Telemetry offers opportunities to work more economically and efficiently, and beginning in 2020, Putzmeister was proud to offer it standard on all truck-mounted concrete boom pumps.
North American customers saw it first at World of Concrete. Experience clever solutions, such as the machine cockpit, which promises, through connectivity – reliable networking, less downtime, higher productivity and, thanks to real-time information and an overview of all relevant operating figures, more efficiency.
"We want our customers to experience digitalization as a gain and remain simple to use," says Sebastian Fuhrich, director of Innovation Factory for Putzmeister Group in Aichtal, Germany. "Ultimately, it's purely about giving them the means to control their fleet and have an overview to work as efficiently as possible with our machines."
The machine cockpit will be integrated into the new MY Putzmeister portal that acts as a single point of contact for our customers and dealers. Intertwined with the new aftermarket WebShop, Machine Cockpit, Warranty Tool, and MyFleet, MY Putzmeister creates a one-stop-shop for job management, parts ordering, and staying abreast on Putzmeister company updates.
MyFleet is a new application that involves a master list of the equipment in possession of the company/user. This data includes serial and VIN numbers, year, an image of the machine and more.
Additionally, e-learning will be integrated into the portal, as well as the company's PartnerNet system for authorized Putzmeister dealers.
"Putzmeister is excited for the opportunity to better serve our customers yet again," says Martin Dietz, Program Manager MY Putzmeister. "Even as an industry leader, there is always room for improvement, and we are going to continue searching for ways to champion new offerings for the Putzmeister family."
The portal launch is expected to come in the fourth quarter of 2020. 
Request More Information
Fill out the form below to request more information about
Putzmeister to Release Business Management Portal in Fourth Quarter