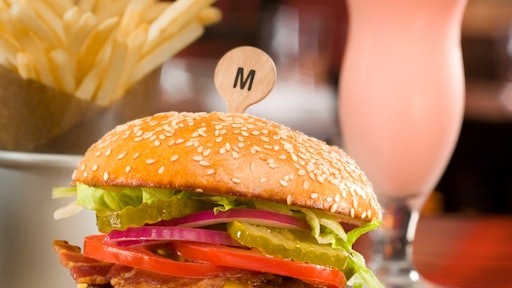 BLT Burger – The Mirage
If you like to see how your food is cooked, BLT Burger is for you. The restaurant at The Mirage features a circular open grill kitchen so diners can watch their burgers being cooked. With a casual dining experience, BLT Burger serves beef, American Kobe, lamb and turkey burgers with all the trimmings including cheese, bacon, avocado and homemade chili. And if there's a game you want to watch, the restaurant features flat-screen TVs for a 180-degree window for your sports viewing pleasure.
BLT offers many specialty burgers including the Tex-Mex, Lamb Tandoori and Buffalo Chicken along with a number of sides including five types of fries and rings. Finish it off with a milkshake, either classic or spiked!
Burger Bar – Mandalay Bay
Promoted as "the ultimate burger experience", the Burger Bar at Mandalay Bay offers burgers of beef, buffalo, turkey, vegetarian and vegan products with a range of gourmet toppings.
Specialty burgers include the Surf & Turf Burger and the Peppercorn Burger or try the Burger Bar Sliders for a variety of burgers on one plate. Burger Bar also offers diners the opportunity to build their own burger, allowing you to choose the meat, the bun and toppings from a list of over 40 topping options. Finish it off with your choice of one of eight fry options or create a fry sampler. Complete the meal with a milkshake or float. And if you're still hungry consider one of the sweet burgers – the Chocolate Burger or the Creamy Cheese Cake Burger – for dessert!
Holsteins Shakes & Buns – Cosmopolitan
Housed in the Cosmopolitan hotel, Holsteins' emphasizes fresh, natural and organic ingredients for its menu of specialty burgers and a wide variety of milkshakes. All items, including burger buns and fixings are custom crafted in-house.
Choose from specialty burgers including the Hen House, the Fun-Ghi, El Machete and the signature Gold Standard burger. While those can all be found on the "big buns" section of the menu, if you fill up on appetizers and milkshakes the menu also offers "tiny bun" options.
No Holsteins meal is complete without trying one of the many shakes or malts. And with names like the Drunken Monkey, The Fat Boy and Frozen Grasshopper who can resist?
I Love Burgers – Palazzo
The name says it all. I Love Burgers at the Palazzo features a menu of gourmet burgers with creative toppings and sides. Choose from a specialty burger or create your own with meat options including traditional beef, turkey, buffalo, ahi tuna and vegan burgers. I Love Burgers also claims to offer the largest fry menu in Las Vegas.
Specialty burgers on the menu include the I Love Bacon burger, the Dante, the Inferno and The Ultimate Cheeseburger. Diners can choose from eight cheeses and eight topping options. Fry options include truffle-butter tossed fried Yukon Gold potatoes, London-style chips and baked potato fries.
KGB: Kerry's Gourmet Burgers – Harrah's
Chef Kerry Simon – winner of Food Network's "Iron Chef America" - has created a unique menu of inventive burgers. With an interior featuring wall coverings based on 1960's Russian propaganda posters, KGB also offers up a wide array of vodkas or have a vodka hostess help pair your burger selection with its ideal vodka cocktail.
Some of the inventive burgers diners can choose from include the Thanksgiving Turkey Burger, Stuffed Spicy Burger and the Lamb Burger. Or go more classic with the Cheddar Cheeseburger or the build your own option.
If vodka isn't your drink of choice, KGB also offers a burger and shake combo of the month. Visit the website to see what the combo is when you're planning to dine.
LBS Burger Joint – Red Rock Casino Resort & Spa
If you're looking to venture off the Strip for a burger, check out LBS at the Red Rock Casino. Described as a rock 'n' roll casual theme, LBS serves all-natural gourmet burgers paired with a beer selection of domestic, imported and micro brew options. LBS uses only hormone-free Hereford beef and organic turkey as well as house-made sauces, hand crafted buns and farm fresh vegetables.
Diners can choose from over 12 different burgers including the Pizza Burger, El Caliente or the Perfect Burger. Or try the sliders. If you visit during the 777 Jackpot Happy Hour on Monday through Thursday from 2 p.m. to 6 p.m. you can select from four burgers for just $7.77.
Le Burger Brasserie – Paris
If you're looking to expand your burger experience, try Le Burger Brasserie for the French interpretation of the American burger. Burger options include beef, chicken, salmon, lamb and veggie with ingredients inspired from around the world.
Try a twist on the classic beef burger with options such as Le Paris, L'italian and Le Bleu burgers.
If you really want to go all out, try the $777 Kobe Beef and Maine Lobster Burger which features Brie cheese, caramelized onions, prosciutto, 100-year-aged Balsamic vinegar and is served with a bottle of Rose Dom Perignon champagne.
Gordon Ramsey BurGR – Planet Hollywood
The menu at Planet Hollywood's Gordon Ramsey BurGR restaurant aims to take the burger, fries and milkshake combo to a new level with options like pork belly bao buns, sweet potato fries with vanilla powdered sugar and pudding shakes. The beef burgers are cooked over an open flame fueled by hard woods for a more complex and powerful flavor.
In addition to creating a delicious burger, this restaurant focuses on breaking the mold of the traditional French Fry. Hand cut and cooked three times for extra crispness, BurGR uses Kennebec potatoes for a lighter, less starchy fry which can be dipped in the restaurant's signature curry or chipotle ketchup.
Stripburger – Fashion Show Mall
If you're looking to venture outside the typical hotels for your burger, try Stripburger at the Fashion Show Mall. Stripburger claims to be Las Vegas' first completely exposed, all-outdoor restaurant and bar on the Strip at Fashion Show. The menu includes 100 percent all-natural beef burgers, hand-cut fries as well as milkshakes and cocktails.
Menu options include classic burger choices as well as Stripburger's famous Blue Cheese Burger, its Jack Daniel's Burger, the Green Chili Cheeseburger and the Jalapeno Popper Burger. There are also eight fry options including Atomic Cheese Fries and Garlic Herb Fries.
Anthony's Gourmet Burgers & Brews – M Resort
Just outside Las Vegas in Henderson, Nev., check out Anthony's Burgers & Brews at the M Resort. Anthony's boasts a variety of burgers with either classic toppings or toppings with a twist like stout braised short ribs or cranberry-blue moon orange mayonnaise.
Touted as a grown-up burger bar experience – no minors are allowed in the restaurant - signature burgers include the Imperial Burger, the Pilsner, the I.P.A. BBQ spiced burger and the Red Ale. And for a twist on dessert, Anthony's offers "the ultimate gelato tasting for two".
Best Las Vegas Bars
Looking for a place to grab some drinks after a long day on the show floor? Check out one, or all, of these nine top bars in Las Vegas.
Minus 5 – Mandalay Bay
If you're looking to chill check this place out. Aptly named for its constant temperature (23 degrees Fahrenheit), enjoy frozen cocktails from ice glasses or an alcoholic beverage of your choice.
Mix Lounge & Bar- Mandalay Bay
Step out onto the 64th floor balcony for views of the Las Vegas Strip while you enjoy one of the many specialty cocktails.
Red Square – Mandalay Bay
Stop by and check out the private vodka vault and frozen icebar with more than 200 frozen vodkas and infusions.
Parasol Up & Down – Wynn
A two-tiered bar, check out the menu with some of the rarest drinks around.
Blue Martini Lounge – Town Square
Try one of the 42 martinis on the menu.
Rhumbar – Mirage
Inspired by the Caribbean, enjoy a stylized cocktail while relaxing in the cigar lounge.
Deuce Lounge – Aria
Enjoy high-stakes gaming and custom cocktails.
Chandelier Bar- Cosmopolitan
Experience three bars in one place at this multi-story bar and lounge.
Freakin' Frog – S. Maryland Parkway
Home of the largest selection of beer in the U.S. Enough said.