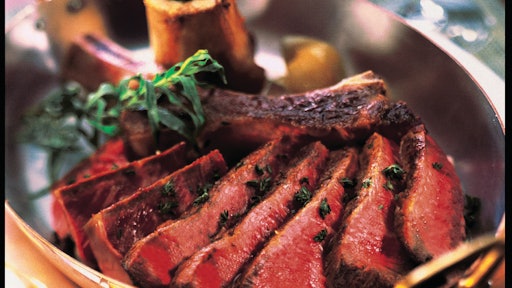 Golden Steer Steak House
308 W. Sahara Ave.
702-384-4470
$25-$50
goldensteersteakhouselasvegas.com
Branded as the oldest steakhouse in Las Vegas (it opened in 1958), the steakhouse is known for its prime rib, New York and filet of beef.
Cut
The Palazzo
702-607-6300
Over $50
www.palazzo.com/las-vegas-restaurants/fine-dining/cut
This AAA Four Diamond Award-winning restaurant by Wolfgang Puck features USDA Prime Nebraska corn-fed, 35-day dry-aged steaks as well as Japanese 100% Wagyu Beef. Choose from a wide selection of house-made sauces to accompany your entrée.
Carnevino
The Palazzo
702-789-4141
Over $50
www.palazzo.com/las-vegas-restaurants/fine-dining/carnevino/
Celebrity chef Mario Batali and winemaker Joe Bastianich have joined together for the full dining experience. The restaurant offers 6- to 8-month-old dry-aged beef paired with an extraordinary wine selection.
SW Steakhouse
Wynn Las Vegas
702-248-3463
Over $50
www.wynnlasvegas.com/restaurants/finedining/swsteakhouse
The innovative menu at this restaurant offers a variety of charred, prime-aged steaks and chops as well as an outdoor terrace that overlooks the Lake of Dreams.
THE Steak House
Circus Circus
702-794-3767      
$25-$50
www.circuscircus.com/dining/the_steakhouse.aspx
Enjoy mesquite grilled steak, prime rib, lobster, lamb chops, crab legs and other seafood selections at this steakhouse.
The Flame Steak House
El Cortez Hotel & Casino
702-385-5200
$25-$50
www.elcortezhotelcasino.com/dining/the-flame
Enjoy live piano music while you dine on prime rib and New York steaks along with a variety of beef, chicken and seafood entrees.
BRAND Steakhouse
Monte Carlo Hotel & Casino
702-730-6700
Over $50
www.montecarlo.com/restaurants/brand-steakhouse.aspx
This steakhouse fuses modern fine dining with nightlife. The menu includes imaginative interpretations of classic steakhouse favorites including The Ultimate Steak – a 8.6-lb. beef porterhouse.
Tom Colicchio's Craftsteak
MGM Grand
702-891-7318
Over $50
www.mgmgrand.com/restaurants/craftsteak-steak-house.aspx
Celebrity chef Tom Colicchio makes it simple at Craftsteak with food from small family farms and farmer's market vegetables. Enjoy you steak with a drink from the over 200 Bourbon and Scotch labels available.
Fogo de Chao
360 E. Flamingo Rd.
702-431-4500
$25-$50
www.fogodechao.com
Bringing the flavors of Southern Brazil to Las Vegas, meats are roasted over pits of open fire, called cooking "The Gaucho Way".
Hank's
Green Valley Ranch Resort and Spa
702-617-7075
$25-$50
greenvalleyranch.sclv.com/dining/hanks
In addition to prime steaks, fresh seafood flown in daily, signature appetizers and unique side dishes, Hanks offers over 30 different types of martinis – shaken or stirred.
N9NE Steak House
The Palms Hotel & Casino
702-933-9900
Over $50
www.palms.com/fine-dining/n9ne-steakhouse
At N9NE, the diverse menu changes daily and includes a variety from sirloin to sashimi.
Smith and Wollensky
3767 South Las Vegas Blvd.
702-862-4100
Over $50
www.smithandwollensky.com/locations-2/las-vegas
Enjoy your meal on the sidewalk café right on the Las Vegas Strip in front of Wollensky's Grill, which stays open until 3:00 a.m. for late night dining.
STK
The Cosmopolitan of Las Vegas
877-893-2003
Over $50
www.cosmopolitanlasvegas.com/taste/restaurant-collection/stk.aspx
Enjoy a live DJ while dining at STK which provides a flirty, feminie take on the classic American Steakhouse.
Prime Steakhouse
Bellagio
702-693-8865
Over $50
www.bellagio.com/restaurants/prime-steakhouse
Designed to remind diners of a luxurious 1930s-style speakeasy, Prime offers prime steak, seafood and lamb along with sauces, sides and its wine collection.
Gordon Ramsay Steak
Paris Las Vegas
877-346-4642
$25-$50
www.parislasvegas.com/restaurants/gordon-ramsay-steak.html
At this steakhouse, guests get a look at the exclusive beef aging program created under the direction of Chef Ramsay with menu options ranging from traditional steakhouse fare to Ramsay's signature dishes.
Old Homestead Steakhouse
Caesars Palace
702-731-7558
$25-$50
www.caesarspalace.com/restaurants/old-homestead.html
The exclusive menu includes several signature dishes from the restaurant's New York City menu including a 32-ounce Gotham rib steak on the bone, filet mignon on the bone and an 18-ounce empire cut of prime rib.
Delmonico Steakhouse
Venetian
702-414-1992
Over $50
www.venetian.com/las-vegas-restaurants/fine-dining/delmonico-steakhouse
Celebrity chef Emeril Lagasse offers New Orleans style cuisine with signature bold flavors and specialties like bone-in ribeye.
StripSteak
Mandalay Bay
702-632-7200
Over $50
www.mandalaybay.com/dining/stripsteak
StripSteak offers a classic menu including corn-fed, all-natural meat as well as A5 Japanese Kobe beef and 300 single malts.
Fleming's Prime Steakhouse
8721 W. Charleston Blvd.
702-838-4774
Over $50
www.flemingssteakhouse.com/locations/nv/summerlin
Meat is hand-cut daily on site for generously thick steaks that are seared at extremely high temperatures to seal in the beef's natural juices and flavors. Fresh vegetables are served family style, and diners can choose from five different potato preparations.