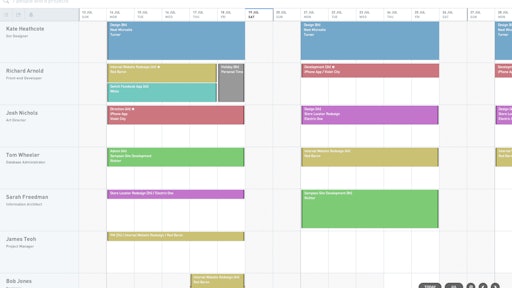 Mobile app: Float
Developer: Float
Cost: $5/per person per month
Available on: Apple and Android devices
Float is a resource scheduling mobile app helping contractors keep track of who's working on what and when.
The schedule view allows users to see a detailed day view or as far out as a 12-week schedule forecast. Users can assign a task to team members with simple click and drag into the schedule area. You can also prioritize tasks.
Float also helps users find the people and projects they need to fast. Sort by availability, filter by skills, drill down to departments and save your favorite searches.
The project management features of Float include assigning team members to a project, marking important milestones and phases in each project, setting projects as billable and non-billable adding tasks notes and more. When you mark milestones and phases, these dates appear in the schedule where everyone can see them.
Float also offers reporting features including the ability to compare billable hours as a percentage of total working hours. Filters allow users to report on multiple people, departments, projects and clients.
App features:
Track time off, sick leave and public holidays
Manage part-time workers and subcontractors
See schedule updates as they happen
View the schedule your way using sorting and filtering options
Permissions to control who sees what
Email notifications
Weekly and monthly repeating tasks
Share data with existing project management, finance and time tracking apps
Import team and active projects
Reports provide real-time snapshot of team utilization; drill down to departments, clients, projects and individual team members