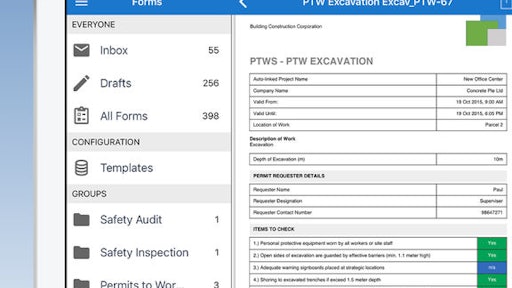 Mobile app: Novade
Developer: Novade Solutions Pte. Ltd.
Cost: Free with Novade account
Available on: Apple and Android devices
Novade provides apps used to streamline site processes, facilitate collaboration and improve productivity. The Novade mobile app includes the ability to manage inspections, checklists, safety procedures, asset management, and handover. Novade users can also schedule and automate inspections and track repair activities.
For contractors, Novade provides an enterprise platform to manage building projects throughout their entire life cycle.
With Novade Quality, contractors can analyze data, identify trends, draw correlations to ultimately improve quality on projects. Field workers can use the mobile app to conduct inspections, log defect information, and complete and validate quality checklists.
Management and project teams can track and monitor the status of all defects and quality checklists with automatically generated reports and dashboards.
Novade Safety is used to manage safety procedures on construction sites. Subcontractors can submit data onsite and be notified when actions or validation of actions are required. Safety inspections can be conducted using the app, and site managements can monitor the status of all permits to work and non conformity reports in real time.
Novade Logistics helps manage various types of assets including equipment, tools and materials. With Novade Logistics you can locate assets on maps, manage allocation and transfer of assets, and manage maintenance with customizable checklists. Users can also view utilization forecasts and daily forecasts for monitoring equipment costs.
Novade Maintenance makes scheduling field inspections and tracking repairs easier. Users can create and customize a database to locate and track assets on multiple sites as well as create checklists for each type of asset with customizable approval workflows. Schedule maintenance work, monitor progress and archive all data. Finally, manage repairs in real time, track status and generate instant reports.
App features:
Access up-to-date 2D and 3D drawings
Take and annotate pictures
Assign work with a starting date, completion date and party responsible
Collect digital signatures from customers
Resource management includes: project allocation, daily time cards, overtime management and more
Equipment management includes: allocation, daily checklists, maintenance operations and more
Safety management includes: permits to work, inspections, non conformity reports, near misses, incident reports and more
Flexible project configuration enables usage on any type of building including residential, commercial and more
Works offline; info synced using Internet or WiFi