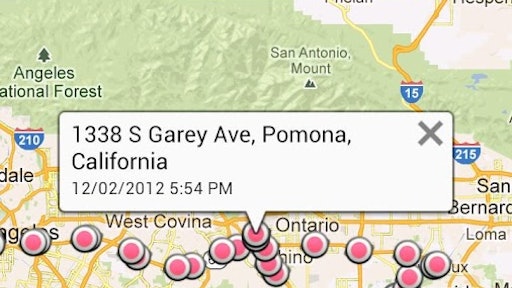 Mobile app: GPS Trackit
Developer: Nimbo Labs
Cost: Free with GPS Trackit account
Available on: Apple and Android devices
The GPS Trackit fleet tracking app allows users to track any vehicle in their fleet from a mobile device.
With the Maps feature, users can view fleet locations in real-time. The standard map view is the one we're most use to seeing on a mobile app. Satellite view provides a more real-world view while the Hybrid view gets you even closer to seeing exactly where the vehicle is and what's around it. Plus, no matter the view you can see the vehicle's address, recent event, speed and direction all on the same screen as the map.
App features:
Locate vehicle's current location on a map
Standard, satellite and hybrid views
Detailed information about vehicle's last known location including address, date and time, speed, and heading
View established GeoFences on a map
Vehicle trails let users choose a date and time range to display a map view of a vehicle's reported locations during that time
View various vehicle history reports within a specified date range
Identify and located the nearest vehicle to a chosen location or other vehicle
Get accurate directions to nearest vehicle or specific location
Run reports for each driver including summary, mileage, idle, ignition, speed and detail reports
Create and manage alerts for behaviors like speeding, idling, mileage and more
Vehicle maintenance alerts can be set by days, engine hours or mileage and can be sent via text or email
Pre-alert reminders for items like oil changes, tire rotations, fluid checks and more