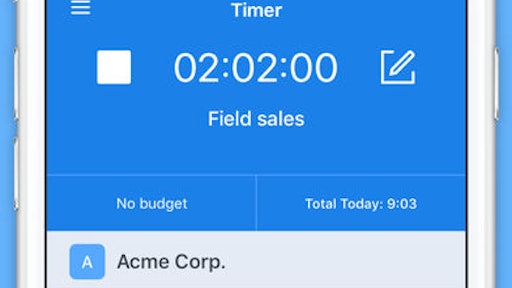 Mobile app: Hubstaff
Developer: Netsoft Holdings LLC
Cost:  Free with Premium Hubstaff Subscription
Available on: Apple and Android devices
Hubstaff is a subscription-based time tracking service where the mobile app uses GPS to track employees' time and helps streamline payroll management. Hubstaff monitors the location of a contractor's workforce in the field using a GPS tracking feature.
[VIDEO] Hubstaff Time Tracking Software and Mobile App
Hubstaff runs in the background of an employee's mobile device tracking time and location. It is easy to turn on by tapping "Start" and turn off by tapping "Stop".
The Hubstaff mobile app is part of Hubstaff's Premium subscription package, which starts at $9 per month for one user and up to $499 per month for 50 users. However, if you plan to have more than 50 users Hubstaff can accommodate even more.
App features:
Online dashboard and real-time reports to review timesheets, who's currently working and control settings
Time tracking is accurate down to the second
Weekly budgets
Automatic payroll system – choose a rate (hourly or fixed), pay period and method of payment
Track time driving or at a destination in real time
Work logs for notes from field workers
App and Internet monitoring with screenshots
Integrates with over 30 project management products including Quickbooks
Company's data synced to Hubstaff servers in the cloud