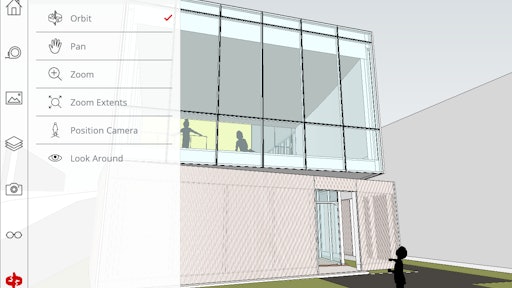 Mobile app: SketchUp Viewer
Developer: Trimble Navigation Limited
Cost: $9.99
Available on: Apple and Android devices
Bring 3D models to life on your mobile devices with SketchUp Viewer. The mobile app allows users to store, open, view and share SketchUp models on your Apple or Android devices.
Models can be downloaded from 3D Warehouse, Trimble Connect or Dropbox. Or SketchUp models can be transferred directly to the app via iTunes, opened directly from email attachments or opened from cloud service apps like Google Drive.
SketchUp Viewer includes navigation features like multi-touch gestures for Orbit, position camera, look around, pan, zomm and zoom extents. A camera menu option allows for toggling between perspective and orthographic camera modes and adjusting the field of view.
In addition, the Scenes menu allows users to select from any of the standard camera views (top, side, bottom, etc.) or access a custom Scene created in SketchUp.
App features:
Layers panel to toggle contents of SketchUp model layers on or off
View panel to choose from any of SketchUp's Edge or Face styles and toggle X-ray mode on or off
Visibility toggles for watermarks, hidden geometry, section planes, section cuts and axes
Tape measure tool to quickly measure objects in the SketchUp model