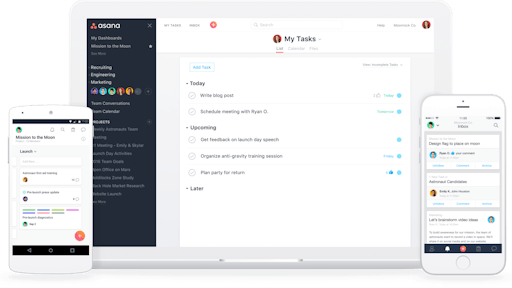 Mobile app: Asana
Developer: Asana, Inc.
Cost: Free basic version
Available on: Apple and Android devices
The Asana mobile app is designed to make it easier for team to work together and track their work. Users can organize tasks and projects, manage to-do lists, get updates from coworkers and more, all on their mobile devices.
For the individual user, features include adding tasks for to-dos, reminders, ideas and requests. Tasks can be organized in lists or board layout. Tasks can include due dates, assignees, followers, details and files. Users can also comment on tasks to help clarify instructions or to ask questions.
Asana can also be used to communicate with coworkers. Conversations can be created to share announcements, ask questions or comment on a task. Users will get notifications about projects, tasks and conversations they are following. They can then send a quick reply with a like or comment directly from the notification in the Inbox.
The free basic version of Asana can include up to 15 people and allow them to add tasks, create projects, teams and files. The premium version is available for $9.99 per member per month. It includes all the features of the free version plus no team member limit, unlimited dashboards, advanced search and reporting, custom fields, task dependencies, comment-only projects, private teams and projects, starts dates and more.
If those options aren't enough for your company, there is also an enterprise version available. The enterprise version contains all the features of the premium version plus advanced admin controls, specialized help from the customer success team, user provisioning and deprovisioning, custom branding and more.
App features:
Changes made in mobile app immediately appear in web app
Work offline and sync updates when online
Delegate and track tasks
Notify team when tasks are completed
Use custom fields to track most important information for your team or company
Turn common processes into templates
Calendar view to spot holes or overlaps in schedule
Real-time status updates to track progress
More than 100 integrations work with Asana