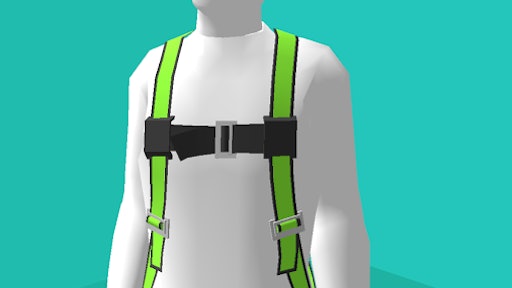 Mobile app: Harness Hero
Developer: Simcoach Games
Cost: Free
Available on: Apple and Android tablets
Harness Hero was developed to help workers practice setting up fall arrest systems in a safe and fun way. Developed under the guidance of safety professionals from across the construction industry, this video game app engages players in the key decisions of using a fall arrest system. Harness Hero was built in partnership with the Master Builders Association of Western Pennsylvania (MBA) and Constructors Association of Western Pennsylvania (CAWP). The National Safety Councils notes that the safety game can help save lives, says developer Simcoach Games. The goal of this game is to reduce injuries and fatalities related to improper use of fall protection equipment.

The player chooses where to anchor, what anchorage device to use, how to set up the harness, what connection device to use, and more.
The player also inspects the equipment along the way for burns, rips, rust and other malfunctions.
At the end of each play, the player encounters a fall, and depending on how well they did setting up the fall arrest system, the player either witnesses a rescue, a severe injury or even a fatality.
The virtual training environment allows players the freedom to experiment with different anchorage and connection devices without facing real-world deadly consequences.
"Harness Hero makes classroom learning come alive and helps players visually as well as virtually learn about key decisions of using a fall arrest system," according to developer Simcoach Games.

Fall safety, or lack there of, isn't something to take lightly. But a video game app to help teach safety can be a great way to engage the younger generations of employees. However, a video game app shouldn't be the only fall arrest training your construction employees receive. Instead, consider using this app in addition to regular fall arrest system training or as a refresher for workers who have been on the job a while and may need a reminder on the importance of proper fall protection.
There is also Harness Hero Bridge Edition, which engages players in key decision of using fall arrest systems for bridge construction projects.
Players can access additional safety games through the Simcoach Skill Arcade located within the app. The Skill Arcade offer players direct access to other safety-related games including Future Road Builders, Site Search Construction, Traffic Control and more.

App features:
Work through constantly changing environments to see if you know what to do with limited options

Watch virtual worker in action

Earn Certificate of Achievement for scoring 95% or above during play (note: this certificate recognizes player's in-game performance and has no merit upon real life aptitude)