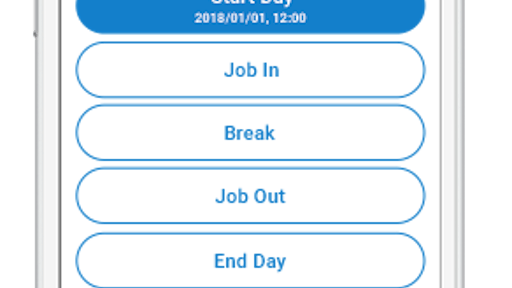 Mobile app: myGeoTracking Agent
Developer: Abaqus Inc.
Cost: Free
Available on: Apple and Android devices
The myGeoTracking Agent mobile app combines geo-zones, if-this-then-that rules, text/voice/in-app messaging and hybrid GPS/WiFi location capabilities for near "zero-touch" mobile workfoce management and optimization. The app aims to make it easy to effectively control payroll and operating costs while boosting accountability and productivity, according to Abaqus Inc. myGeoTracking provides resource and field-event visualization, time-attendance and other types of operations reports on field activities.
With myGeoTracking's mobile workforce management service, construction companies can create automated mobile time-clocking schedules using data from their back-office systems to populate customer and job ID codes and create customer-job-zones ("geo-zones") for employee job attendance reporting.

The app provides regular location updates to the myGeoTracking web server based on strict privacy controls around shift hours. Location updates start and stop according to shift hours as set by the employee and company. It uses hybrid positioning (network, Wifi and GPS) for both indoor and outdoor support. The dashboard allows contractors to track field workers in real-time along with map visualization of all field activities and jobsites.

For field data collection, the app creates custom forms with multiple fields, types and validation. Forms can be sent in real-time to field employees or an entire group. QR codes and barcode scanner help track assets, location, attendance and tasks. All collected data is stamped with location and time.
For time and attendance tracking the app has multiple modes to record time. The geofence time clock uses jobsite geofencing to track time and site attendance. The crew check-in allows a crew manager to clock in one employee or groups of employees. To prevent buddy punching, myGeoTracking provides geo-tagged clockin/out with picture upload. You can also set up reminders for clocking in and out based on an employee's work schedule and any compliance related 'break' reminders.
myGeoTracking also has it's "lone worker safety solution" to monitor employee safety while out in the field. Employees can manually trigger a safety alarm via the app or set up a customized proactive safety-check workflow to monitor and detect any threats.
App features:
Assign daily or weekly job schedules to employees
Define where employees can punch in/out by setting up geographical perimeter (jobsites as geo-zones)

Automatically check employees in and out of job zones during the work day

Manually and automatically submit attendance records from geofenced jobsites
Send job status updates via in-app, text messaging or voice call

Submit geotagged photos, signature and QR codes for proof-of-service
Visualize location breadcrumb
Get team member location updates
Data can be analyzed and integrated with backend software systems

using myGeoTracking web API e.g. Integrate with Google drive, Quickbooks, Amazon Storage, Concur, Scheduling systems, Payroll systems etc.

Generate overtime, double-overtime report, time spent at worksite to calculate productive hours

and comply with state/federal regulations.

Works offline in case of bad network coverage