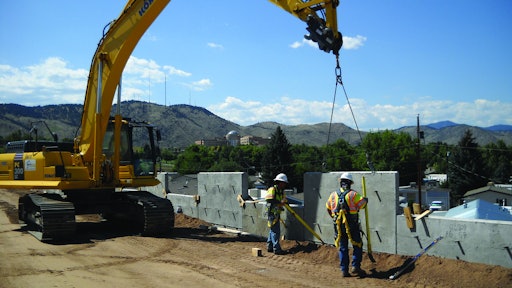 Herzog Contracting is a construction company with various projects, crews and sites. As most crews report directly to the construction site each morning, and not a centralized location, there was traditionally little to no tracking of the different tools and small equipment used by each crew.
Herzog recognized that the "honor system" was resulting in a major loss in profitability due to the costs associated with replacing tools and equipment that went missing. When Herzog won a new contract for the construction of Denver's West Corridor Light Rail Project in 2009, company leaders saw the opportunity to implement an asset management solution and enlisted Dynamic Systems Inc., a software developer specializing in bar code data collection applications, to help.
The Challenge
A project such as the construction of Denver's West Corridor Light Rail Project involves a variety of trade work - from bridge building to carpentry to ditch digging. All of these elements require different tools and equipment, from hammers and drills to shovels and GPS receivers.
Until recently, there was no asset system in place to track equipment needs. Each foreman was responsible for his or her crews' set of tools, and as such, it was a common occurrence for tools and equipment to be lost or misplaced, which the company knew was causing a major impact on overall profitability. Without a proper tracking system, Herzog estimated that it replaced at least 10 percent of all tools purchased over the course of a project. On one recent project in particular, the company purchased more than 1,000 replacement tape measures.
Herzog challenged Dynamic Systems Inc. to provide a comprehensive tool management solution to meet its highly specific criteria. Many construction sites do not have an office, so a traditional computerized system was not an option. Further, not every site has easily accessible Internet, so the system had to be managed without a wireless connection, but with the ability to upload information to a central database as needed. The solution also had to be very durable, including the ability to withstand prolonged exposure to dust and dirt, which is commonly a problem on construction sites.
The tools and equipment used on-site vary in size and shape, so the solution needed to incorporate bar codes that were small enough and durable enough to fit and stay put on all types of tools. Herzog was specifically interested in utilizing 2D bar codes for these reasons. To read the bar codes, Herzog needed a mobile computer with scanning and imaging capabilities, and a hand-held scanner that could quickly and seamlessly log new tools into the system.
Taking all requirements into consideration, the company selected a complete solution, including Honeywell's Dolphin 7850 mobile computer conjunction with Dynamic Systems' CheckMate software for tool tracking, and pre-printed 1D and 2D bar codes.
The Solution
Designed for rugged environments and built to withstand repeated drops to concrete, Honeywell's Dolphin 7850 mobile computer was selected for the project because of its IP64 rating and easy-to-use, touch screen interface. Signature capture functionality was also a key reason the device was selected as it allows each crew foreman to electronically sign out tools and equipment for his or her team, instilling a sense of responsibility and ownership over the tools. This signature also serves as a legal record from which the company can hold a specific foreman responsible, should an expensive tool turn up missing.
Honeywell's Focus 1690 hand-held area-imaging scanner decodes virtually all bar codes, including the 1D and 2D bar codes designed specifically to adhere to Herzog's requirements. The 1690 quickly scans the individual bar codes applied to each new small tool and/or piece of equipment owned by Herzog. Using CheckMate Toolroom software, this information is loaded into an electronic library so that each individual tool can be tracked. In addition, this software allows tools to be classified according to value, with more expensive tools being tracked more closely.
Although updates are not made to the library in real-time due to the nature of the business, they are made two to three times daily, creating an easy, searchable database for quickly determining which crew last used a specific tool or piece of equipment. As the solution continues to grow in popularity and use, the electronic records will also serve as a component of a complete pricing/cost estimate system for the company.
The Benefit
This solution provides increased profitability for Herzog as foremen feel a heightened sense of ownership for their crew's tools, resulting in a significant decrease in tool and equipment loss. Herzog estimates it is currently saving $20,000 per month on tool replacement. The company is also seeing improved productivity as the solution allows management to know where expensive and unique tools are at any point in time and there is no longer time spent searching for lost or stolen tools.
"Herzog is among the first construction companies in the business to manage our assets electronically and this wouldn't be possible without Honeywell's rugged and reliable devices," said Deric Berry, Fleet Manager, Herzog Contracting Corp. "We look forward to seeing improved productivity and profitability from our crews as we continue to implement this system at other sites."
The success of Denver's West Corridor Light Rail Project resulted in the purchase of a duplicate system to be used in the construction of the North Texas Rail Project, slated for completion in mid-2011.