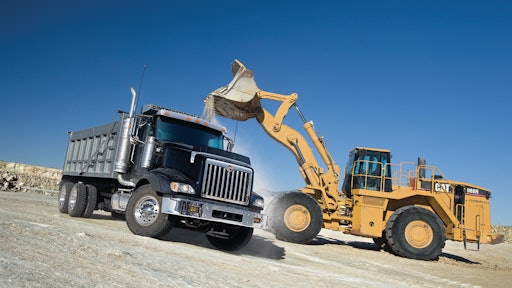 Advanced electronic options emerge as a key point of differentiation between today's vocational truck offerings. Sophisticated electronics can simplify fleet management by tracking driver performance, monitoring vehicle health, helping drivers navigate the most efficient route, protecting components from driver mistakes and protect employees on the jobsite by preventing unsafe conditions.
It is beneficial to not only compare traditional truck specs such as horsepower, torque and payload capacity; but also learn about the electronic features that can boost fleet performance. Fleet tracking technology has become an important asset for many construction equipment fleets, and this technology can also be used on your vocational truck fleet.
Track equipment and maintenance
Knowing where your equipment is located, what it is doing and how it is performing is essential to effective fleet management. Many manufacturers offer monitoring systems to remotely track construction machinery, Caterpillar construction equipment owners have been able to access this information through the Cat Product Link remote monitoring system, which is standard on new Cat machines.
Product link is integrated into the equipment, interacting with the electronic control modules that power and monitor machine systems such as engine, hydraulics and transmissions. Events and diagnostic codes, as well as hours, fuel, idle time and other information are sent via satellite or cellular communications to a secure web-based application called VisionLink, which is hosted by Trimble. This provides scheduled and exception-based reporting for equipment anywhere.
In addition, VisionLink allows additional features such as access to Caterpillar PartStore for online parts ordering and SOS Services for fluid analysis.
This system is now offered on the Cat CT660 vocational trucks. The CT660 Product Link system provides all the benefits of the established Product Link technology to help owners improve fleet efficiency, optimize utilization and control operating costs.
In addition to the conventional benefits of Product Link, CT660 owners will have access to valuable truck-specific information. This functionality includes management of maintenance by mileage, engine and transmission PTO usage updates, alerts for loss of main battery power, notification of non-authorized movement during "key-off" intervals and access to odometer readings and VINs (Vehicle Identification Numbers).
With Product Link, you have the ability to maximize fleet availability through efficient preventative maintenance scheduling and visibility to current health conditions. Through Product Link's alert notification feature, customers can select the type of alerts to be received and to whom and when they are distributed. You can set up alerts to be notified when the truck enters or exits a user-defined geographic fence, or when an asset is turned on or off during a specified period of time.
Ford is also promoting better fleet management with the Ford Crew Chief, powered by Telogis. It is a fleet management tool that accesses proprietary data contained within the vehicle's computer and shares it via a cellular connection with the fleet owner to maximize operation. Real-time data is available in three areas of fleet operation; vehicle location, diagnostics and driver behavior. Recently developed features include oil life, safety belt status and tire-pressure information.
"Our 'Crew Chief' wireless information technology lets fleet managers closely monitor their vehicles to help reduce costs and improve safety. In real-world use, fleet companies are reporting fuel savings between 10-20 percent along with improvements to driver safety and vehicle durability," says Len Deluca, director, Ford Commercial Trucks.
"You can get Crew Chief on E-Series, Super Duty and Transit Connect," reports Rob Stevens, chief nameplate engineer, Ford. "It is designed to communicate with our products as you plug it in. Telogis is the supplier, but we have modified the standard Telogis system to specifically talk with our vehicle so there is more data available. You can buy different packages of connectivity and communications, depending upon what you are looking for. There is a monthly cost."
There are several benefits to Crew Chief. "It really helps to modify driver behavior," notes Stevens. "It helps with fuel economy. There have been fuel economy gains mainly because the driver knows it is in there. He is not always on the throttle or running top speed. It will give warning of somebody exceeding a set parameter. It helps with total cost of ownership. It also helps catch maintenance issues. You can see maintenance issues coming because it monitors the engine parameters."
"You can track on a computer where the vehicle is and how fast it is going," says Stevens. "It will give you max speed." This particular feature made more than one editor a little nervous during the Super Duty launch when it was announced that the trucks were equipped with Crew Chief and the Ford staff knew which editors were driving each truck and how fast they were travelling."
One particular case Steven recalls was a fleet that was having a transmission issue with one of its vehicles. Stevens explains that Crew Chief was installed to find out what was happening. The Crew Chief quickly identified the problem – it was the driver. Apparently the driver would put on a headset and listen to music. Then the driver proceeded to keep time to the music with his throttle foot! The driver didn't even realize the issue until it was pointed out.
The system also features geo-fencing capability. "It gives you a warning if you go outside the fence," says Stevens. You can also look up the current location of your fleet vehicles on a computer. It also provides other critical safety information. "It will communicate back if there is an accident or airbag deployment."
Customize features for application
Advanced electronic systems can also allow you to tailor a vehicle for a specific application. The Diamond Logic technology offered by Navistar serves as a good example. The Diamond Logic electrical system on International DuraStar, WorkStar, TranStar and ProStar trucks is a multiplex technology that enables communication and control between vehicle components and body equipment to decrease downtime, improve productivity, increase safety and optimize maintenance.
With a multiplex wiring harness multiple pieces of information are sent via a single twisted pair of wires versus a conventional wiring harness where a single piece of information is sent on a single wire for each gauge or control switch. Electrical data such as engine oil pressure or switch functions such as headlamps flow along the same twisted pair of wires. This makes it possible to automate tasks, such as turning on the headlamps when the wipers are turned on.
Diamond Logic allows customers the opportunity to customize a vehicle for an application with advanced logic features. Bob Mann, Navistar, explains many of the advantages offered by Diamond Logic. The vehicle and equipment can be protected by creating interlocks, which are operational limits and rules within the electrical system. "For instance, you can make sure the air bags are filled up before you take off when you dump the valve to hook up a fifth wheel . If you climb out of the truck and you haven't set the brake, there is an alarm that goes off.
The system also protects critical components. For example, PTOs are controlled with software-selected interlocks. When engine speeds reach pre-programmed engine rpm, the PTO will disengage; or when the parking brake is released the PTO will shut down. Multiple interlocks are available. For instance, differential locks are released above 25 mph and the rear axle cannot be shifted unless the vehicle is parked.
Another benefit of Diamond Logic is the 'smart' switches in the multiplex wiring harness can easily be relocated to customize the driver's environment.
GPS for trucks
Navigation is also critical for drivers to find delivery points. For the larger vocational trucks you need a dedicated navigation system that specifically identifies weight limits and overhead obstructions along the route. While many truck manufacturers offer these navigation systems, they often include many premium features and therefore tend to come with a high purchase price.
"We launched a cost-effective navigation system," says Mann. "We are offering a Rand-McNally system that comes with lifetime updates and it is designed for trucks." It will notify the driver of any lane restrictions, if there are any overhead restrictions, any issue that would pertain to a truck on that road." While Navistar already had a system that provides this information, it was more expensive.
This system is very basic. "Someone in a dump truck or delivering construction materials doesn't need all of the other features," notes Mann. "They just want to be able to get the driver from Point A to Point B. They wanted something that was cost effective and uniform throughout the fleet.
This just touches on some of the electronic technology available to make your fleet more efficient. Most manufacturers offer some variant of these systems or other electronic technologies which can simplify fleet management and provide a competitive advantage. It pays to investigate what is available before making that major purchase.