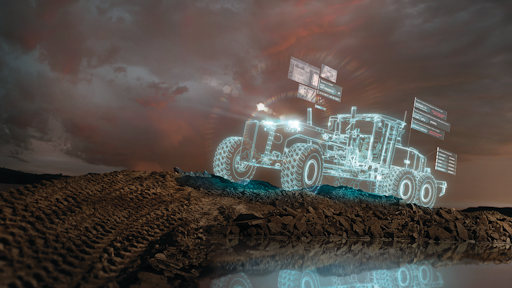 Which equipment is earning money and which equipment is sitting idle? Can you document machine and operator productivity? Are your machines properly sized? Equipment monitoring systems can supply this information over your PC, smart phone or cell phone via a web-based interface.
These systems generate a wealth of data. "You can only improve on what you measure," says Liz Quinn, product marketing manager, John Deere WorkSight. Telematic systems let you measure the productivity of your machines and operators, plus it keeps tabs on machine health.
You gain visibility to all of your jobsites from anywhere you have access to the internet. "Productivity results obtained by telematics can be shared with personnel on the job and be used as learning tools to refine job operations," says Ron Ludchak, director of global sales, Topcon Tierra. "In addition, telematics provide accurate machine utilization data, providing the opportunity to size the equipment fleet for maximum production. We have one customer that has used the production data received from telematics to downsize his fleet, saving significant capitalization and operating costs while maintaining production"
Similar to 3D grade control technologies, telematic systems promise to transform the competitive landscape. "Telematic systems are going to provide the next big competitive advantage," says Dave Augustine, equipment management, Caterpillar. But the technology is still in its infancy. "We estimate that as few as 20% of all contractors have really embraced and adopted the technology and are actively using it to improve business results." Like any technology there is an adoption curve."
However, unlike 3D grade control technologies, being an earlier adopter does not require a major investment. Many manufacturers include the hardware and up to a three year free service plan with new machines. "Most of our medium and large size machines are factory standard with Product Link," says Augustine. It is built into the price of the machine.
Equipment health and asset management
There are two distinct components to telematic equipment monitoring – equipment health and asset management. "The asset management is among the most asked questions from customers," says Augustine. Customers want to know machine location and what they are doing. Telematic equipment monitoring systems allow you to locate equipment, know what it is doing and how it is performing at any given minute.
Information gathered from your equipment can provide insight into your operation, including the health and productivity of your equipment. Working and idle hours can be tracked along with fuel consumption, start and stop times, engine load, and event diagnostic codes.
Idle time analysis is the single biggest tool people can pick up very quickly. If a machine was turned on and sat idle for two hours you want to know why. "It keeps the machines from being underutilized," says Chris Richardson, segment manager for software, Trimble. If the machine is supposed to run an eight-hour shift and it is not being turned on until 9:00 a.m., you can figure out what is happening and adjust. "You can start to track a lot of details as far as really drilling down to what is actually happening."
How much can really be saved by cutting idle time? "We have found that the average piece of construction equipment in the U.S. idles over 40%," says Ludchak. "By using telematics a contractor can identify which operators and machines idle excessively. Reducing idle time can significantly impact fuel costs. In addition, elimination of excessive idle time extends component life, reduces maintenance costs and reduces the company's carbon footprint."
These systems also allow the proper scheduling of preventative maintenance. "Everyone realizes that timely maintenance can reduce operating costs and extend component life," says Ludchak. "However, few people have recognized the cost associated with over maintaining equipment. Without knowing accurately when maintenance is due, contractors often perform maintenance early. Performing just one service per year on a piece of equipment costs a contractor hundreds of dollars. By performing PMs on the proper schedule, a contractor receives the maximum equipment life while minimizing maintenance costs."
Quinn adds, "The operator can really boost profitability through the use of telematics with the reduction of idle time, ability to size equipment for task at hand, to operate most efficiently, and reduction of passes and markup with grade control systems." For example, JDLink can tell you that a motor grader is spending a lot of time in 8th gear, which is transport speed. This could mean an operator is not very efficient and is making loops on the jobsite. Training might be required. In another example you may see too much engine load on an over-worked machine. This may indicated a larger machine would be more productive.
You can also reduce rental costs with telematic systems. "Without accurate knowledge of true equipment utilization, contractors are often forced to rent additional machines, while in reality they have one of their own units available to do the job," says Ludchak. "Telematics allows the contractor to get accurate utilization information on his fleet. He not only can identify how much a machine is being used, but when it is being used. This information is powerful in ensuring that a job has proper equipment, without excess rental equipment or underutilized owned assets."
Monitor production
Not all telematic suppliers are taking the same approach. For instance some OEM systems are more focused on machine health and asset management. "As far as the job production data, there is quite a ways to go and there is a lot of opportunity," says Richardson.
Some system suppliers, such as Trimble, are tying telematics into the 3D earthmoving systems with a connected jobsite approach. "We have 3D product monitoring, which means when we have machines with grade control systems we can actually feed that data back into the telematic solution to update the surface model and give you real-time cut information," says Richardson. "With the grade control we have on an excavator or a motor grader we can see the production that machine is generating. We get a picture of what the surface looks like and feed that back to the telematic solution so you can calculate volumes based on what those machines have moved."
This approach lets you track the production by machine. "We have more of a guarantee that the machine was actually productive. The telematics is tied to the grade control so we have the ability to get the data from the grade control solutions as far as the production," notes Richardson. "That is one tie into the connected site. Another area is the software solution. We have VisionLink, which is for the grade control and telematics. It is all very connected."
Going forward telematics is going to play an increasingly important role on the jobsite. "We will continue to incorporate telematics as a critical part of our solution as far as the connected site," explains Richardson. "It is an important part of the construction process, having the ability to track that data and feed that back into the rest of our solution."
Hurdles
There are a couple of hurdles to overcome before equipment monitoring systems become main stream. To become an effective tool, the customer needs to understand how to properly use and implement the technology.
"The biggest hurdle is probably customer adoption and understanding the technology and the data," says Augustine. "The two biggest cost drivers for a contractor are the cost of the operator and the cost of the fuel. So anything you can do to make sure those machines are not idling and make sure the operators are productive and efficient is huge. Some progressive contractors are really looking to technology as their next big initiative to be more productive and more profitable."
Getting started with these systems is relatively easy. Most of these equipment monitoring systems simply require you register and interpret data from a web-based interface.
Don't worry about complexity. "One of the beauties of telematics is that it can be as simple or complex as you want it to be," says Ludchak. "The benefits are available on all levels. A contractor can start on a very basic level and grow the system to a level that matches his company's abilities."
"Basic implementation is not complex," says Quinn. "For new machines with hardware in base, simply enroll and start using the easy-to-uderstand web interface. We do facilitate business system integration through APIs (Application Programming Interfaces) so that JDLink data can be incorporated into an existing business system. Generally, the two biggest user groups are fleet managers and jobsite superintendents, but estimators can glean valuable information for quoting future jobs too."
"The most significant hurdle is just turning it on . . . getting started," notes Quinn. "technology can be intimidating to many in our industry today, but everyone can benefit from using construction technologies and there really isn't anything to lose. Customers benefit through increased productivity, increased machine uptime and lower daily operating costs."
But data alone will not impact your results unless you act on it. Sometimes it takes a little while to figure out how the data can be used. "When customers look at the data that is available, a substantial percentage can't quite connect that with improving their business results." This is where the dealer plays a critical role. The dealer has to help the contractor understand the technology and how the basic use of that data can be used to improve business results. "As our machines get more sophisticated I think the dealer role changes," says Augustine. "Their value added in being able to interpret and recommend is really critical going forward."
Richardson adds, "There are not a lot of contractors who realize what they can do with these systems very quickly. They are surprised by it."
But the data provided by these systems does require a change in how you manage your fleet. "Suddenly you have access to information," says Richardson. "Different people are using it for different functions. There are a number of people on the job who want to use this and it does change the way that they are working because they have this data."
"You are going to have to build some business practices around the systems that are available," notes Augustine. "Getting shared processes and shared systems across those business units is something that the customer really needs to work on and think about."
Of course ROI will be different for every contractor. "Generally, however, it doesn't take long for a telematics system to pay for itself," says Quinn. "Think of avoiding a single catastrophic downtime event through the use of prognostics – the material and labor reductions from a grade control system; the fuel savings from reduced idle time. The more machines being monitored, the more opportunities for realizing significant time and cost savings."
The more you use the capability the faster the return. "ROI is dependent on how much of the systems power is used by a company," says Ludchak. "The opportunity is there to recoup the investment in as few as six months in some cases. Even an entry level user can make the system not only pay for itself, but also improve profitability."