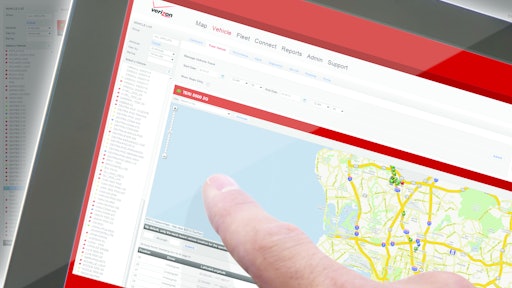 Telematics is getting a lot of buzz in the equipment world, and rightly so. The GPS-based technology offers numerous benefits to equipment owners and fleet managers, ranging from comprehensive fleet-wide solutions to modest programs tailored to a smaller scale. What can it offer your rental business?
It really depends on your need. "On one end you have telematics now available that deliver unprecedented amounts of data; they plug into a machine's CANbus to remotely collect all the data streaming through the asset such as fuel consumption, machine health, diagnostic information, fault codes, idle time, etc. It can be literally hundreds of data points that can be accessed at any given time," explains Tony Nicoletti, vice president, strategy and business development, DPL Telematics.  "On the other end you have telematics becoming more powerful in a simplified way. The size of some units are becoming more compact while the internal battery life is expanding, in some cases getting months of life out of a single charge. These types of units no longer require wiring into the host asset or running an antenna, and are completely self-contained. New GPS technology no longer requires a sky view, so units may be hidden inside assets and in-building locating is now possible."
In other words, telematics is no longer just for large fleets of equipment owned by national rental chains; smaller businesses can also reap the benefits with a reasonable investment.
"The key is to use the right technology on your fleet to optimize and analyze the machine data in a meaningful way specifically for your fleet," says Courtney DeMilio, associate vice president, LoJack Commercial. "The benefits of telematics solutions – including better operational efficiency, improved customer service and increased profitability – are driving the demand for companies of all sizes across industries to integrate intelligent, connected solutions. Telematics offers rental companies the ability to optimize fleet operations through real-time data, analysis and management features that monitor usage, utilization, service and maintenance needs, and much more."
She adds, "Regardless of whether you are managing a local, national or international rental equipment fleet, the latest telematics solutions are customizable and scalable to meet a rental company's specific needs as they stand today, and in the future as the business grows and evolves."
Like most rental companies, you likely pride yourself on your company's customer service, which entails making sure equipment is where your customers need it, when they need it, as well as the ability to respond quickly to problems, if they arise. Today's telematics can help you do just that... on the fly.
"Now more than ever, business owners must be connected to operations while on-the-go," DeMilio points out. "The state-of-the-art telematics solution offers a sophisticated feature set that can be accessed anytime, anywhere via mobile devices including tablets and smartphones."
No matter how it's implemented, telematics is transforming the way businesses operate through improved asset management. "Drivers (and rental customers) become more accountable," states Jim Rice, national director of sales, SMB, Verizon Networkfleet. "Managers make decisions based on hard data rather than guesswork. Customer service improves with location and diagnostic tracking. Forecasting and budgeting become more predictable. Fleets can even reduce environmental impacts through lower fuel usage and fewer emissions.
"In addition to tracking GPS location, today's telematics systems are gathering more data from vehicles through sensors," Rice continues. "This information can be integrated with data from other applications such as maintenance programs to help identify and diagnose potential sources of problems before they occur. This type of data analysis also helps businesses to compare fleet, vehicle and driver performance over time and look for trends, which can help them to improve efficiency, reduce operating costs and extend vehicle/equipment life."
Potential benefits
Where telematics can change the way you do business can be boiled down to four main areas:
1 Tracking usage for improved billing
"One of the most significant ways a telematics solution can impact the bottom line for rental companies is through real-time insight into equipment usage," DeMilio says. "With the right solution in place, branch managers can quickly and easily access data that shows how their rental equipment is being used by the customer. Access to this real-time data can help ensure that a customer's equipment usage is within the parameters of the contract, enabling managers to proactively address any necessary overage charges instead of being left to chase down fees after the rental period has ended.
"These capabilities result in three main benefits to the rental business: less time and resources spent chasing down overage fees, improved customer service due to transparency (proactive, data-driven communications to justify overage costs leads to no surprises on customer invoices) and more money going towards the bottom line in a timely manner."
Simply put, telematics make equipment rental companies smarter. "Look at your fleet on a whole. Say you have a rental fleet of a thousand different makes and models. With today's telematics dashboards, you can see equipment utilization of your entire fleet at a glance and then drill down for explanations around the outliers. It becomes painfully obvious what's used and what isn't, and helps companies move beyond gut feel in terms of utilization and the decisions made as a result," says Michael Bloom, director, marketing and product management, Navman Wireless. "For example, a rental company can quickly identify areas where they may be leaving money on the table. Perhaps they have a dozen backhoes, each with longer rental agreements and high individual utilization levels. That could be an indication that there is a high demand for backhoes and justification to increase stock to fit the unmet need. Knowing all the backhoes are rented only tells part of the story. Knowing they are rented and highly utilized provides a better picture to help inform company expansion decisions."
Bloom says today's telematics engage sensors that differentiates work and idle time, so they can show the number of hours a piece of equipment is powered on and 'in use' versus running idle. "As an equipment rental company, you'd want to know the difference between the two," he says. "Preventive maintenance is expensive. Over-servicing your equipment can cost a lot, but underservicing can cost you even more in the event of something like engine failure. Most OEMs will provide service guidelines for working hours as well as idle hours. Knowing the difference between the two enables you to service when you need without voiding factory warranties, yet not over-servicing 'just in case.' This is especially critical in scenarios where you don't really have 'eyes on the equipment' because someone else is using it and you just have to take their word for how it's been used."
2 Proactive maintenance
Telematics allow rental companies to set up alerts for when a vehicle or piece of equipment needs maintenance to help them become more proactive with repairs. Alerts can also be set up to let users know when a vehicle's check engine light comes on and can provide the exact diagnostics trouble code (DTC). Mechanics can then diagnose problems remotely and consult with customers to get the vehicle up and running again quickly.
Rental companies can benefit from quick access to real-time and historical data, formatted in easy-to-read reports, Demilio says. "This data, for example, can provide a clear view of when equipment needs to be scheduled for regular and preventive maintenance or emergency services. Automatically tracking data as service records, engine hours and much more helps streamline processes while decreasing the risk of breakdown and machinery overload."
3 Locating equipment for streamlined logistics
Today's telematics systems provide one place for companies to gain knowledge of all their equipment. Benefits include the ability to track hours used in conjunction with the location, the ability to manage drivers from an "hours of service" perspective, and knowing exactly where equipment is at any given time.
"Trying to locate mobile assets in the field can be a huge time waster, especially if customers who rent equipment frequently move assets such as generators or trailers," Rice says. "Telematics systems that include a mobile asset tracker can save time, improve billing accuracy, reduce repair costs and streamline administrative tasks."
4 Theft prevention
"Rental companies should evaluate telematics solutions that provide real-time updates on the location of equipment to enable better asset management, including the ability to locate equipment whether it's on the company lot or customer jobsite," DeMilio says. "These location capabilities can also be used to set a virtual boundary, which when penetrated sends notification via email or SMS alerting rental managers of unauthorized movement in off-hours.
Bloom concurs, adding, "Theft is a big issue, especially when the equipment is turned off. With telematics, companies can create real-time alert notifications of theft occurrences. For example, a piece of equipment starts moving while the ignition is off. This is a fairly good indication that a potential theft is in progress — especially depending on the time of day. Systems then go into theft recovery mode and ping their location at a much faster rate. Having this information real time that you can relay to the police dramatically increases the likelihood of recovery."
Nicoletti points out that telematics can also be setup to "curfew" assets if they are started or moved outside of customer defined hours. "If they move during this time an email and/or text alert goes out just like a geofence or virtual boundary mentioned earlier. Also the telematics can also disable the starter during that window so the machine cannot be started. This helps to reduce theft by detering joyriders and other contractors from using the asset. Lastly, a rental house can disable the starter remotely at any time to slow down a thief."
Tailored solutions
How telematics looks at your business will depend on your company's operations, what you rent and what your goals are with the technology. "Telematics today is no longer one size fits all, so a rental house has options to pair the telematics (or several different types of telematics) with their fleet," Nicoletti says. Having fully integrated telematics on each piece of equipment might make sense for a rental company with larger assets or if they provide service contracts, he says, adding, "If something happens to one of their machines while out on rent, they can instantly see the fault codes coming off it and begin to diagnose it remotely. Then a quick call to the customer can fix the problem, i.e., 'You are not letting the machine complete its regen cycle,' or corrective action may be taken proactively, such as, 'You have a clogged filter, we have a replacement on its way to you.'"
A rental company that has smaller assets or shorter-term rentals might take a different approach. Rather than having a dedicated, hardwired telematics unit in each machine, they might have a simple locator that can be hidden on a rental as it goes out – and moved to another machine upon its return. "If they have a theft concern, worry about a particular customer or just want to keep track of where the assets are, this solves their problem," Nicoletti says. "And the same portable unit may be redeployed on another asset, so the rental company is not purchasing a unit for every rental machine."
For a rental company looking for something in between that can locate, capture runtime hours and offer the ability to remotely disable their machines, there's a system that can do that too. "This helps them confirm actual rental usage, rain day and 'off rent' time, as well as have the control to remotely lock out a nonpaying renter," Nicoletti says.
There's even a solution for rental companies that simply want to monitor their own trucks. "From route tracking to giving a customer an ETA to monitoring driver behavior and service codes, all of that can be collected," Nicoletti says. "The good news is there are telematics now available for just about every application and asset type. Whether your company has light towers, arrow boards, generators, trailers, skid steers, excavators or everything in between, they can make use of telematics on all their rentals and their own trucks."
What does it cost?
Fortunately, the cost of telematics has come down across the board, but largely depends on the individual business' needs. There's a hardware component which is typically purchased outright or leased, and a subscription for the wireless communication, software access and support. "A single unit investment can range from a couple hundred dollars to over $1,000 for customized satellite communication telematics solutions. As expected, the simpler tracking products should cost less than the more complex ones and more frequent/larger data transmissions will require a more expensive subscription than a basic one," Nicoletti says.
Still, implementing a telematics solution does not have to be a costly endeavor for a rental company, particularly because the potential return on investment from collected overage fees and optimized operations is substantial. For example, DeMilio says LoJack Connect for Equipment can be purchased for under $300 with a minimal monthly subscription depending on the number of equipment being serviced.
By creating operational improvements that reduce costs, Verizon Networkfleet provides a quick return on investment, Rice says. Costs to implement the system start at $1 per day, per vehicle.
Travis Jones, CTO of LHP Telematics, states, "Currently, telematics hardware runs between $500 and $1,500, depending on the needed feature set and ruggedness requirements. Monthly service charges range from $15 to $35 per month depending on the provider, feature set, and selected telematics device."
He continues, "There is a one-time cost per unit to purchase the physical telematics box, and then the monthly fee is similar to a subscription fee. It's based on what features you select, as well as the unit itself. More complex telematics units have higher monthly service fees."
At the end of the day, however, all telematics providers claim any cost will be soon recovered through improved operations.
"On a per vehicle basis, if you're consistently able to reduce the preventive maintenance cycle of a piece of equipment, increase intelligent equipment utilization and be smarter about your business, you're easily able to pay for the initial cost of telematics in as little as three to six months and fall into tremendous cost savings over time," says Bloom.
"I like to use this analogy: Renting equipment is like renting a car. Ask yourself: Do you put in the highest-octane fuel? Do you worry about keeping the floor mats clean? Do you think twice about eating in the car? Do you drive a little rougher? Of course the answer is normally 'Yes.' It's human nature, and that mentality extends to your equipment. Having visibility into your most expensive asset as a business, which you entrust to someone else to take care of, is the greatest resource an equipment rental company can have."