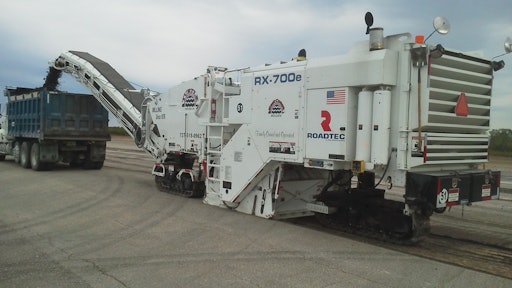 Turtles have long been been depicted as strong, steady, and wise, and The Turtle Companies of central Florida try to embody those characteristics. For example, over the past year Turtle milled over 10 million square yards at depth ranging from ¾ in. to more than 24 in. with equipment downtime of less than 1.3 percent of operating time.
Two companies, Turtle Southeast, based in Largo, FL, and East Coast Milling Turtle, located in Vero Beach, FL, offer asphalt surface milling services, in Florida and neighboring states.
Turtle's largest project ever was the iROX I-75 Road Expansion Project in Lee and Collier Counties where Turtle Southeast milled 30 lane miles or 1.6 million square yards of surface. During this massive project, Turtle had as many as five milling machines operating at once and experienced less than one percent downtime.
"Minimal downtime is typical of how we try to operate," says Tim Hammer, Turtle Companies maintenance supervisor. "Our Elite Maintenance Program and a remarkable Guardian Telematics System on our newer milling machines has virtually eliminated unexpected downtime."
Turtle's Elite Maintenance Program calls for three hours of maintenance after eight hours of milling. According to the company, this level of maintenance far exceeds the industry standard. Additionally, all work-crew members have been trained to recognize the need for simple repairs and perform the work as required.
Four of Turtle's 15 late-model milling machines are equipped with the Roadtec Guardian Telematics System. The telematics-equipped machines are two Roadtec RX-600e milling machines and two Roadtec RX-700e units.
Telematics: Eye in the sky
The telematics system is designed to monitor machines in real time through a wireless signal, and relay any issues that may arise while the machine works to managers. It allows Roadtec customer-service personnel to remotely view machine status in real time and respond to customer needs anytime, anywhere. The engine, hydraulic system, electrical system, and grade control can all be monitored in detail. The machine can also be located by GPS using the Guardian system.
"Diagnosing a machine equipped with the Guardian system is a much quicker and more efficient process," Hammer says. "The system's Live Schematics lets me see all electrical circuits in a simple and efficient layout with real-time status of all switches, valves and settings. If I need to, I can make changes to the grade control system parameters from my laptop without touching the machine."
The system will also e-mail fault codes, service reminders and production reports to keep Hammer and others in the company in the loop. Staying up to date with the latest information on each machine is designed to allow Hammer to manage machines to prevent problems and reduce operating costs.
"At any time I can log on to the Guardian system and view machine speed, location, engine load, and fuel usage, all in real time, without being on the jobsite — it's like being right there on the machine," says Hammer. "This is especially helpful in monitoring fuel consumption. If I see a machine running at 85 feet per minute and I can alert the operator to slow down to 65 feet per minute, I can save a considerable amount of money on unwarranted fuel use."
With telematics, production speed can be monitored in real time. There can be natural conflicts with the expectations of a site superintendent wanting to complete a project ahead of schedule or a mill operator wanting to test the capabilities of the machine.
Having remote, real-time diagnostic access to their milling machines appears to be benefiting The Turtle Companies in a couple of ways. First, they can see problems that may not be readily apparent to the machine operator. And second, even though the company's service vehicles are stocked with typical wear items, the Guardian system can identify problems requiring parts that one of Turtle's technicians should be dispatched to install.
"Turtle  has always been quick to embrace new technologies to help improve operations," says David Ando, president of Turtle Southeast. "We had already been using a third-party telematics system for almost three years. When we heard that Roadtec was developing their own system we were very excited. The Guardian Telematics System has become significant to our business. It allows us to be more efficient with what we have and decrease operating costs and increase profits. It also enables us to see problems before they become major which provides for scheduled maintenance and repairs before there's a breakdown on the job and costs our customers money.
"We have also been showing our customers the system and they seem to be impressed that we are monitoring our equipment so closely and can handle things remotely like making MOBA setting adjustments without needing to send a technician," Ando adds.
For The Turtle Companies, the bottom line for having telematics on their milling machines is better control -- that is, the ability to monitor production real-time, diagnose problems with the engine, hydraulic system, or electrical system, and prevent the most-costly failures.
Companies in this article