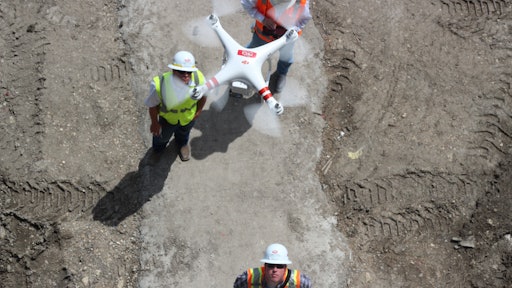 Rogers-O'Brien Construction overcame the ambiguous legal environment associated with U.S. commercial drone flight and has discovered enough value for aerial construction photography that they bought ten quad copters in just over two years.
The Dallas-based general contractor's first unmanned aerial system (UAS) saved thousands of equipment-rental dollars and two weeks early in 2013 when they needed to inspect a building façade for a warranty claim. Quad copters have since proven remarkably cost effective for doing everything from daily progress-report photos to collecting data for 3D modeling of work in progress.
Demand for current progress photos opened the UAS floodgates.
"On every Rogers-O'Brien (R-O) job, we budget for monthly aerial photography," says Blake Potts, the contractor's senior virtual design and construction specialist. "But traditional aerial photographers only fly once a month – you can pay for more, but it's pretty expensive. You get two to three photos, and usually it takes a couple of weeks to get them. By that time, the data is outdated. Really, about all it's good for is to put in a frame on a wall.
"Now (with their quad-copter flights) we have access to the photos instantly so projects can use them any number of ways; for site logistics, progress, and communication."
The R-O copters typically fly over projects once a week but some project superintendents liked the early results so well that they learned to pilot the craft themselves to take daily progress photos.
"Projects use the photos during OAC (owner/architect/contractor) meetings to communicate progress," says Potts. "We even have a project that is attaching the photos to their pay apps to more easily communicate progress to the owner."
Monitoring and communicating progress far better and cheaper than hired aerial photography created compelling savings, but project supers were just getting started with R-O's new air superiority.
"Something that a plane or helicopter can't do: they can't hover 10 ft. from a slab edge and take really up-close-and-personal photos of steel embeds."
The idea came early in R-O's quad-copter use, on a hospital project with a complex curtain wall that demanded precise positioning of the steel in the concrete.
"It was going to cost us a lot of money and time to fix this stuff if we got it wrong," says Potts. "So we flew the whole thing, and we were able to scale off the photos, take that measurement, and make sure all the embeds were in the proper place."
Then the little helicopters started settling disputes.
"We had one project where our drywall subcontractor was informing our project team that certain areas were completely framed and ready to go. Our superintendent begged to differ," says Potts. "It became a heated discussion; a couple of phone calls, some choice words."
The R-O project super had a quad copter on hand.
"He flew the site, took a photo, brought it into BlueBeam to mark up the unfinished framing, and shipped it off within 15 minutes," Potts recalls. "He easily collected this data, showed it to the subcontractor, and it quickly ended that argument. Literally the next day, the subcontractor had more manpower on site to catch up."
The current limit of Potts' list of quad copter values is a bridge to future technology.
It's no coincidence that Potts, who speaks authoritatively about uses for UASs in construction, works in virtual design and construction. Photogrammetry is capable today of creating detailed 3D models of sites, projects and structures by creating a point cloud using project photographs.
"You can fly around a site and take multiple photos," says Potts. "The software pieces those photos together, and the end result is a model. It's not as precise as a laser scan, but it's a heck of a lot quicker."
Potts and R-O's virtual design crew have modeled a few sites using UAS photos and photogrammetry. But current Federal Aviation Administration limits on the use of commercial UASs make gathering the photos too labor intensive.
"Once automated flights are allowed, this will be an easy process," says Potts, referring to systems like SkyCatch's autonomous UASs, which fly over sites without human pilots.
Potts explains how an easy-to-generate 3D model of project progress might revolutionize the way contractors measure and improve production: "We could take the 4D schedule model and overlay with the aerial-photo model to see if there are discrepancies that would alert our project team to a scheduling issue so they could take action."
The Federal Aviation Administration currently requires a pilot and/or spotter with clear line of site to the UAS in commercial flight. Nevertheless, Potts is preparing for a future that includes autonomous drone flights because the aviation administration is still working on rules for commercial UAS operation, and Google and Amazon have not yet had their say.
The FAA issued a notice of proposed rulemaking in February, and final rules are not expected to be in place until 2017.
Almost half of IT professionals polled at July's Associated General Contractors IT Forum said their companies are currently using UAS in their construction process. Nearly 70% of those who haven't started flying job sites say the primary barrier is concern over legal and liability issues.
Jonathan Ziss, a partner at law firm Goldberg Segalia with more than 30 years of experience in aviation law, points out that you can fly UAS for commercial purposes with the FAA's expressed consent.
Early this year the agency streamlined the process for companies like R-O that want to get FAA consent and gain the early advantage in commercial drone use.
"You apply for what they call a Section 333 exemption – go to FAA.gov and search for 'UAS certification' or 'section 333,'" says Ziss. "You can very quickly navigate to that section of the FAA's web site where they explain how you apply for certification."
Be prepared for a government exemption process; not short or simple, but effective. Ziss says applications are taking months to approve, but of the 1,200 or so already submitted, nearly a third are from construction and surveying business.
"Many applications are in the pipeline, but many folks have seemingly taken a miss on the whole prospect of applying for an exemption and are operating quietly or not-so-quietly without certification," says Ziss. "And they do so at their own peril."
Ziss observes that we are in a unique and interesting time because commercial UAS uses expanded so quickly that they exceeded the law's reach. Industry numbers suggest that commercial UAS could generate as much as $100 billion in economic activity by 2024. The FAA doesn't want to delay that activity, so the agency is working to get regulations in place to ensure that the unique new economic engine – which seriously intends to do things like "populate our skies with flying pizza boxes," as Ziss points out – is safe.
"But the FAA is not first-and-foremost a law-enforcement body," Ziss explains when he talks about today's commercial drone-use options. "I think the common experience today is that those folks who are operating drones commercially and are, essentially, minding their own business, not taking undue risks and are, in effect, staying out of trouble are not finding themselves in any sort of administrative bind."
Flying commercial drone missions without the FAA exemption could risk your insurance coverage, though.
Ziss lists the liability concerns associated with commercial UAS flights:
Bodily injury to people on the ground
Bodily injury to people on other aircraft
Property damage on the ground (including structures and utilities)
Property damage to other aircraft
Personal privacy invasion
Business privacy invasion
And the wild card: cyber liability (hacking data and/or hijacking)
"Like with the FAA, the insurance industry has been caught a little bit by surprise by the popularity and growth of the UAS sector," Ziss says. "So not every agent and broker is as conversant in these issues as others.
"Make sure your company risk managers are paying renewed, fresh, from-the-ground-up attention to the use of drones. They do not typically fit under comprehensive general liability policies. They require some custom risk management solutions; both for insurance and also through contracts.
Otherwise they will vex you in the extreme and you could find yourself with exposures for which there's no indemnity, there's no coverage."
Lack of actuarial data is making insurance expensive: one AGC IT Forum participant's company was paying nearly $6,000 in annual premiums per drone.
"Encourage everybody in the room to think through and make the decision to either pay the premium or to self-insure, because that's a decision you can take," says Ziss. "But prices of the UAS premium will come down as more of the major players get into the market over the next couple of years.
"Unquestionably, your company needs standard operating procedures for flying UAS, to defend yourself in any context – administrative or otherwise – from the consequences of an accident," Ziss adds. "UAS operation must be treated with every bit as much respect as aircraft aviation proper. The maintenance aspect kind of falls by the wayside (airworthiness of the UAS is not currently regulated), but in terms of the operation, you have a helicopter in your fleet."
Potts says R-O's UAS only fly over jobsites after the labor has gone home for the day: "Unless we need to be there at a busier time for a specific reason. Then we document that reason."
Potts also emphasizes that you have to know your equipment and follow the manufacturer's directions.
"If it tells you in the manual you have to calibrate the compass before each flight, calibrate the compass," he says. "It's going to save you money, and potentially, a lawsuit."
"Applying for an FAA exemption, that will true you up; cause you to pay attention to the safety-related details that might have escaped your attention when you were really focused on the revenue-generating side of UAS," says Ziss.