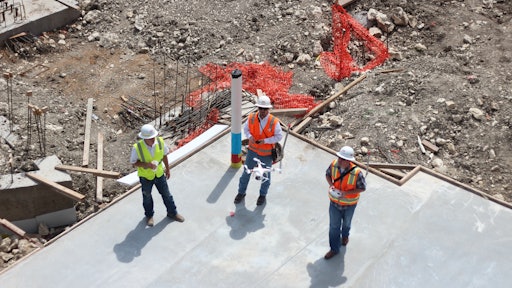 "Most of our projects fly quad copters weekly for aerial progress photos, and then as needed for project documentation but we do have a few projects that fly daily or multiple times a day," says Blake Potts, Rogers-O'Brien Construction's senior virtual design and construction specialist.
"It started with a project superintendent who was really keen to document all phases of his project. One of the ways he did that was to acquire aerial data twice a day during his job walks," says Potts. "He would take pictures from the ground and then from air.
"He was able to see things in the aerial photos that would not have been evident from photos taken on the ground. Then he would mark up and archive the photos so that he would have accurate and timely information to work from the next day.
"I think in the future, once the FAA (Federal Aviation Administration) has worked out the kinks, automated flights will take place at least once a day for progress photos and at other times as needed when an activity is taking place on the jobsite that teams would like to document – like a concrete pour or steel erection."
Since deploying their first unmanned aerial vehicle (UAV) in early 2013, Dallas-based general contractor Rogers-O'Brien Construction has built a fleet of ten of the remote-controlled aircraft. Uses include investigating building warranty claims, settling disputes with subcontractors and routine progress photos.
Automated flights will, assuming Google and Amazon will convince regulators to allow them, will pave the way not only for more-frequent aerial progress updates, but also for using photos to generate point clouds that can be used to creating 3D models of work in progress. It's a feature that Potts believes will revolutionize the precision with which contractors gauge progress and keep projects on schedule and budget.