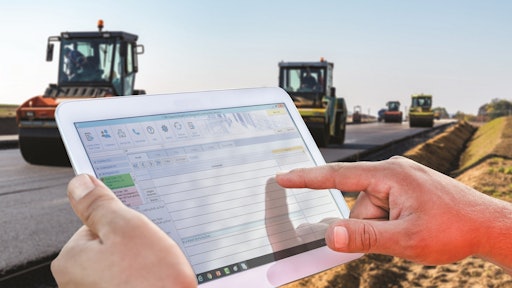 We all know how time consuming it is to run a construction company. From estimating and bidding to payroll and budgeting, it takes a lot of energy to keep things moving efficiently. Over the years, technology has been developed to help streamline these processes and improve construction productivity, but many contractors have been reluctant to try anything new.
"There's the saying that if it ain't broke don't fix it, and that has rung true in construction, where contractors of all disciplines have — to this point — relied on old, but mostly reliable methods of getting work done," Jeremy Larsen, vice president of product management at Viewpoint says. "Could they be doing things faster and more efficiently? Absolutely. But many feel it will take more time and effort to use technology, and that the benefits are marginal and hard to measure."
Yet, with modern technology changing how all businesses operate, relying on manual processes or non-integrated software that worked well enough in the past simply won't cut it anymore.
"Contractors are becoming far more tech-savvy and digitizing their operations to gain competitive edges," Larsen says. "Those that continue to resist technology could soon find themselves at a disadvantage, going up against competitors that can work smarter and faster."
This is why the time is now to research and invest in software that will help position your construction business for success. 
Identify Need & Find a Partner
Deciding what kind of software you need for your construction business, depends on your pain points. Educating yourself on what these programs can do and starting a conversation with software developers are the keys to helping contractors modernize their operations. There are also online resources available to contractors that can help them with choosing the right construction software. 
Larsen says a good software company should work with you and review workflows, needs and goals in order to maximize the opportunities software can provide them. This establishes a strong foundational game plan and backbone for more focused and pertinent training for the end users.
And training is an important aspect of any software adoption at your company as the program will only work as well as the employee operating it.
 "A good training program instills confidence and knowledge through real-world practice, participation and accountability," Larsen says. "Training is critical to contractor buy-in and full utilization of the software."
Larsen adds that the training needs to be effective and timely.
"For example, the project team must complete pre-requisite training prior to implementation in order to accelerate knowledge of the software and inform decisions that need to be made for success during set-up. End-users need training immediately prior to "go-live" so they can be productive in the software right out of the gate."
Additionally, Larsen adds that existing customers must have training available for new users who get added to the software and advanced users who want to deepen their software knowledge and capabilities. Many companies provide a variety of training modalities — from on-demand to instructor-led training — so that end-users can engage in learning that best meets their style and needs.
"Contractors who engage in learning will be more productive and successful in fully utilizing their software solutions, leading to greater success in managing their business," Larsen says.
Break the Silos
Critical for contractors of any type is the desire to connect the processes that are centered in their office with what occurs in the field. Those two often-siloed parts of the business have historically worked within different software environments.
Viewpoint, a Trimble company, has spent the last 40-plus years developing leading-edge construction software. Today it boasts a full suite of comprehensive construction management software solutions that integrates a contractor's financial and resource management to their project operations, jobsite and the field. The integration across the office, team and field enables contractors to employ Viewpoint to effectively manage and have visibility to data and workflows that span the construction lifecycle from pre-production planning, to product operations and supply chain management, and then to project hand over and asset operation and maintenance.
Viewpoint's Office, Team and Field approach changes the separation that historically has occurred and extends the data and allows managers to make informed decisions with integrated data. This approach streamlines all processes of the company by providing integrated workflows and the right software needed for the job.
What's Next?
If your company is serious about implementing construction management software, you've done your research and identified potential partners, it's time to get members of your team on board.
For contractors, having technology champions within the organization can be instrumental to success. In the past, this has largely been limited to IT professionals, but as more contractors are employing chief technology officers, software developers and systems professionals, technology in construction businesses is expanding.
"These technology champions work with contractors' different teams to show them the benefits that technology can have and how it can help simplify their lives," Larsen says. "In most cases, when end users see how much easier their workloads could be, buy-in not only becomes easier, users get excited and eager to make the move."
Larsen says many technology vendors also offer sandboxes for their solutions or test environments for new technologies being developed. Getting involved with these and having end users "try out" features and functionality themselves can be mutually beneficial — helping users better understand the new technologies available and also providing vendors with valuable feedback on how to continue to improve their products.